by Julie Gross
It all started with a Facebook post that read, "Buy or Burn: A one-night, solo art show like none other. All of Joshua Huettig's paintings must be bought or they will be burned. There will be dancing, fire, music and wine will be served by the gallon!" When I first read this, I didn't know who Joshua Huettig was or what his paintings looked like, but what I did know was this had to be one of the most daring local art show ideas I've ever read. My interest was piqued solely based on concept.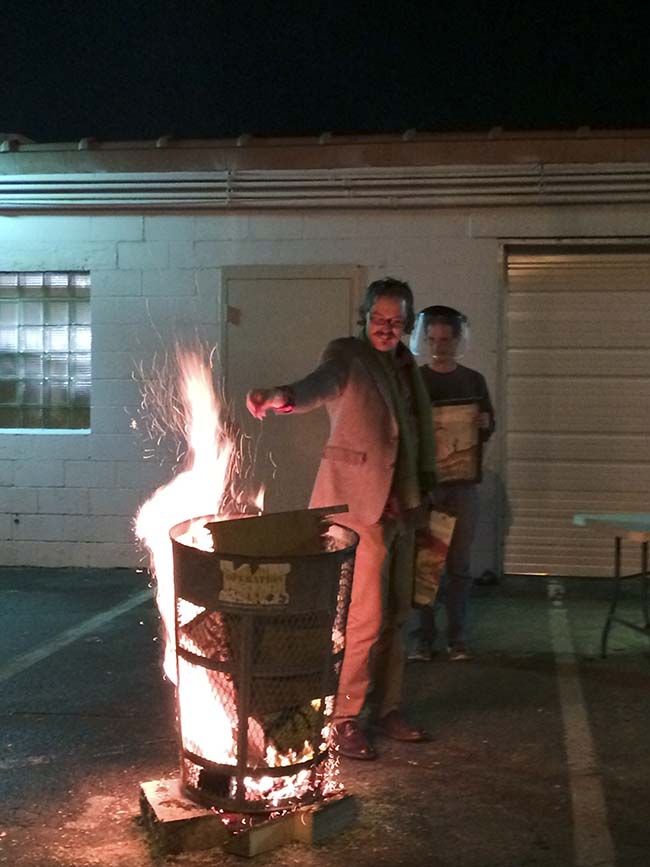 In 1970, artist John Baldessari burned all of his paintings from 1953 to 1966 at a local crematorium, aptly naming it The Cremation Project, to rid himself of the bulk of unsold works and to make a declaration of sorts in becoming a conceptual artist. What Joshua Huettig did at the end of 2013 was not the sound of his "barbaric yawp" like Baldessari, but rather a social experiment in gauging the sympathies of a collective whole. The public determined the fate of Huettig's work.
Huettig used the Facebook platform to his advantage. He frequently posted that his works would Burn if not purchased but always in a blithe tone. For instance, he posted, "Even if you don't plan to purchase anything, come, be merry and watch paintings burn!!!" The extra exclamation points are his. He also made a couple of promotional videos that showed him and his friends outside gathered around a bonfire where he danced and sang in a tongue in cheek act of fire worship.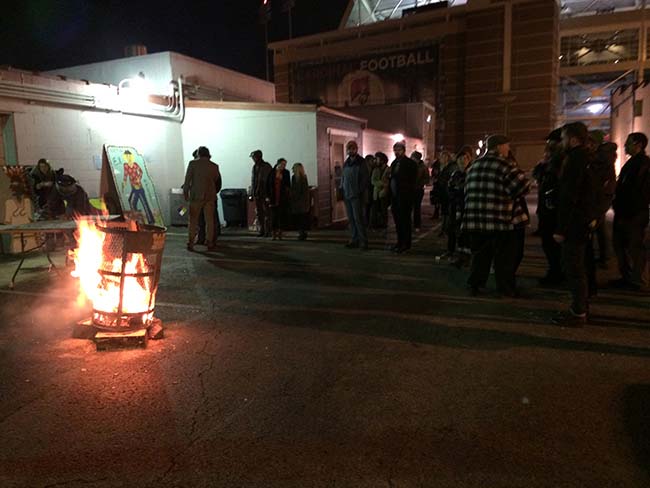 Huettig then posted the rules or procedures of the event.
Buy or Burn FORMAT: All of the paintings will be lined up on the outside of the building. Each painting will have a tag next to it with the price or burn (i.e. $200 OR BURN). If you want to purchase a painting just write your name on the tag and go to the payment table for purchase. Paintings will be available for purchase at 7:30pm SHARP! At 8:30pm we will go down the line and every painting that does NOT have a name written on it WILL be sent to the saw for cutting and then burned. Paintings will be sent to the saw every 5-10 minutes. NO discounts will be given. If a painting is $200 and no one has spoken for it, it WILL burn. I will NOT take $100 for it just to save it. HOWEVER, there will be (4, and ONLY 4) "dibs" sold. A dib is $50 and allows you to "rescue" a painting from being burned. Dibs can only be exercised AFTER the painting is on its way to the saw. So that $200 painting could be purchased/rescued with the dib ($50). You MUST be present to purchase…no phone-in's or FB messages. When a painting goes to the saw, you are welcome to take home a piece of the painting (as a souvenir) before it burns. There will be one painting (tall cowboy) that will be part of the knife throw. Each person will get 3 throws – if you hit the belt buckle on the cowboy, you get the painting!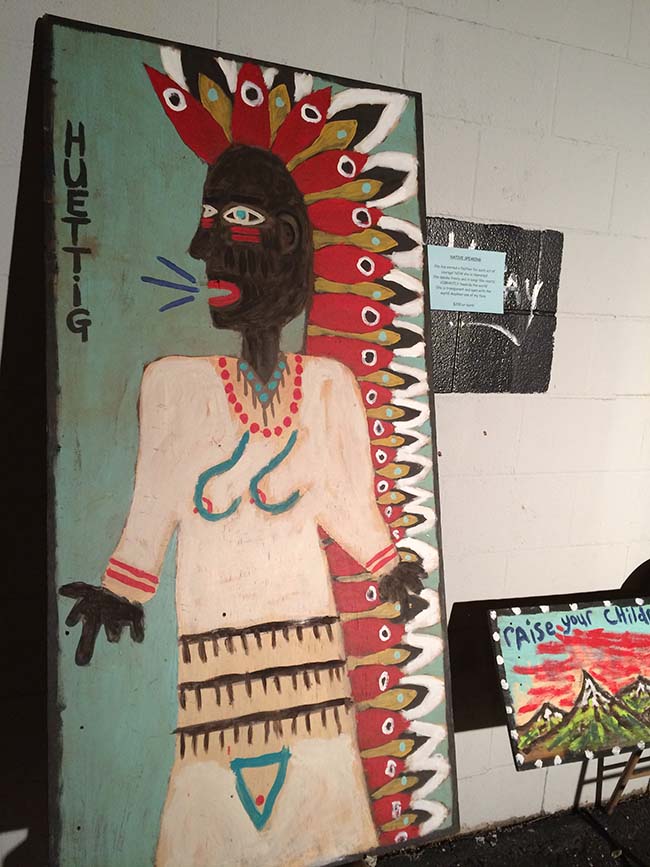 It's clear Huettig knows how to create an interesting marketing scheme, but what about his art? Was it worth purchasing and saving from a fiery death?
Joshua Huettig is a modern day self-taught artist who has been painting since 2007. His influences are the African-American self-taught artists of the 60s and 70s, Jimmy Lee Sudduth, Purvis Young, William Dawson and Steve Ashby. These artists, like most self-taught artists, found their art materials and message in and around their home environment and Huettig is no different. He finds scrap wood in garbage piles, on the banks of the Ohio River and sometimes through donation. Because of this scavenging, many of his paintings are irregular in shape or contain holes, which only adds interest to the work. The imagery, however, does steer away from the familiar of the American south where Huettig lives. Instead, paintings of American Indians, cowboys, mountain ranges and prairie land reference the American West and a trip he took to Red Rock Canyon, Nevada, which proved to be a pivotal time in his creative awakening.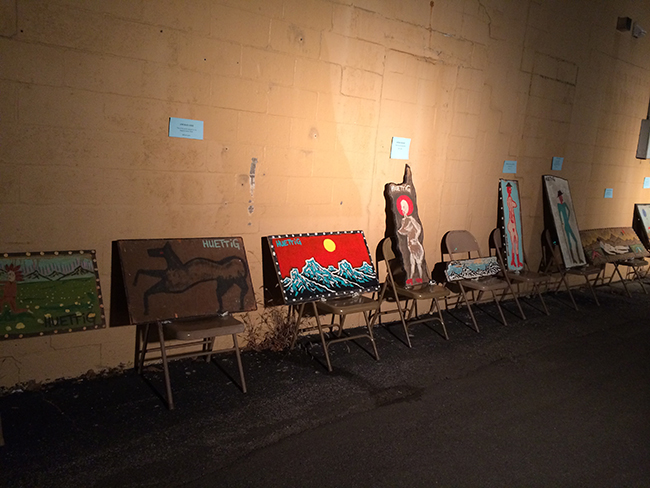 Self-Taught Art is characterized by its own rules, which vary from artist to artist. The traditional rules of proportion and perspective are usually irrelevant and Huettig falls in line with this methodology. Elongated animal bodies and disproportionate human anatomy abound. He has a keen sense of color and uses it boldly, covering the entire wood panel. A few of the pieces were embellished with inspired sayings, but they were all branded with his large signature Huettig.
It's hard to tell by the audience that convened for the Buy or Burn show if they were buying art because they liked it or because they couldn't bear the thought of it being destroyed. I'd say it was both. I even got caught up in the guilt ridden feeling of being a painting's only hope and I quickly claimed a piece. However, there were a few that didn't score with anyone. Of the 45 paintings that were featured, 35 were purchased and 10 were actually burned in a makeshift bonfire. When asked if it was hard for him to see his paintings burn Huettig said, "NO. I want the deaths of the paintings to be primitive and raw-dog. I see a great dignity in the life or death of a painting being judged on one moment, by one people. To me, that is honesty. Regardless if a painting lives or burns, it will return home, and that will be appropriate."
Huettig's artwork is quirky, pleasing, and bears the markings of self-taught art. I once heard a collector say that she bought the work of self-taught artists because it was relatable and affordable. Huettig's work would fit nicely in her collection.