Katie Parker and Guy Michael Davis live a life that's an intriguing combination of postmodern and ancient.
Even as they work daily to innovate with ceramics and multi-media decorative arts, they also revel in the timeworn techniques of firing clay in kilns and conjuring new glazes to suit their vision.
Parker and Davis together are the ceramics department at the University of Cincinnati's College of Design, Architecture, Art and Planning where they joyfully spend 8-10 hours per day in their campus studio, even on the typical weekend day. When they're not there, one of them often is at their own shared studio in Northside.
Parker and Davis are a unique artistic team that works together on their art, from start to finish. After schooling together at the Kansas City Art Institute and working years together in the studio, they not only have developed a common vocabulary. They not only regularly finish each other's sentences, but they also know how to pitch in and help finish the other's parts of projects.
"For the most part, you can say we have our hands in all of the work," Davis says. "Katie has been oriented toward painting and pattern" and other facets of their art. "I'm more of the form-maker. But sometimes those lines are blurred."
"All the decisions I think are made together," he says. "And we divide the labor. We have an aesthetic that we've developed. It's a combination of the two of us. And we trust each other's design sense and aesthetic."
Some couples couldn't assemble something from IKEA without bickering and approaching divorce. These two enjoy the artistic comradery.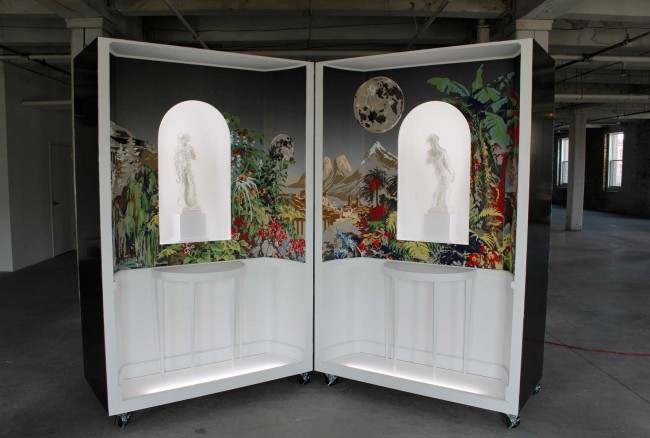 Studio Rats
Davis, 36, says he was an artist "since birth."
"It's like one of those things where you have dreams that you're going to be like an astronaut, but you have this artist illness thing," he says. "It's more like a disability. So, yeah. I've always made things. Always knew that's what I wanted to do."
He grew up in Bartlesville, in the Green Country area of Oklahoma, a place with extremely diverse geography and climate. It's arid, yet swampy, with many rivers, and with desert areas and tall-grass prairies. The cactus and other plants and landforms still influence his recent work.
If basketball players who sneak into gyms late at night to practice their shots are gym rats, Davis was a "studio rat" at the University of Central Oklahoma, when he was hooked on ceramics.
"I had a ceramics teacher who went to the Kansas City Art Institute, and she saw that I had a particular interest in the material," he says. "That school closed at 5 o'clock, and she would prop the back door, and I would scale a brick wall and come in and work in the evenings and at night."
His teacher ultimately told him, 'I'd hate to lose you as a student because you have a lot of energy, but here's where you have to go to school.' And so I dropped out the next day and applied to the Kansas City Art Institute."
Parker, 34, was born in Jonesboro, Ark., and grew up in Plano, Texas.
"I was always into art as a kid, and through high school," she said. "And at some point I remember my parents saying, 'Well, your grades are pretty (lousy), so you'd better work on your art. That's what you're going to do. Really put those hours in.'"
They met at art school.
"So I ended up going to art school in Kansas City, at the Kansas City Art Institute," Parker says, thinking I'd be a painter, and then after freshman year I just kind of fell in love with what I was seeing happening in the ceramics department."
"When I was a freshman, our foundations program looked out in front of the ceramics department," Parker says. "And so you could see all the potters in the basement throwing. And they were there all day, all night, making some of the nicest work in the school."
That attracted Parker, who decided, 'That's the group I want to be part of.'
"It was like seeing an example, and seeing someone do it, and be excited about it, and be in there all day and all night," she says. "It was like, 'Yeah, that's what I want to sign up for.'"
That's the atmosphere Parker and Davis work to foster with their DAAP students.
Ceramics Similar to Skateboarding?
Davis says for him, "Pottery was the gateway drug."
He recalls the amazement when "I saw someone put this mound on the wheel and all of a sudden it generated this shape. Like this thing just grew out of nothing. And then to realize that this was this person's career. That you could actually make pots. So there was kind of this romance with it and nostalgia, and kind of like going back type thing."
He also enjoyed building new skills: "Maybe it's something like being a skateboarder or something and learning tricks. I don't know. It's about learning something and building, learning something, and building."
"And you can see yourself get better," Parker adds, describing her initial attraction to the medium.
By now, they're quite accomplished, of course.
With ceramics, Davis notes, "you can constantly complicate things, and adjust things, and refine things. And I think the refinement is probably something that I'm really attracted to. And the fine-ness: It is almost like this precious stuff, you know? And that also goes into the alchemy of it, and the science of it. The transformative aspect of it, that you really are dealing with chemical reactions and you're transforming something into this translucent, glass-like material."
Both received their bachelor's in fine arts in 2003, encouraged by the pro-ceramics vibe in the Kansas City arts scene that persuaded them ceramics could be a viable career. Parker went on to the MFA program at Ohio State University, while Davis went to an 18-month residency at the Richard Carter Studio on a mountain in the Napa Valley region.
Parker earned her MFA in 2005, while Davis earned his, also from Ohio State, in 2008.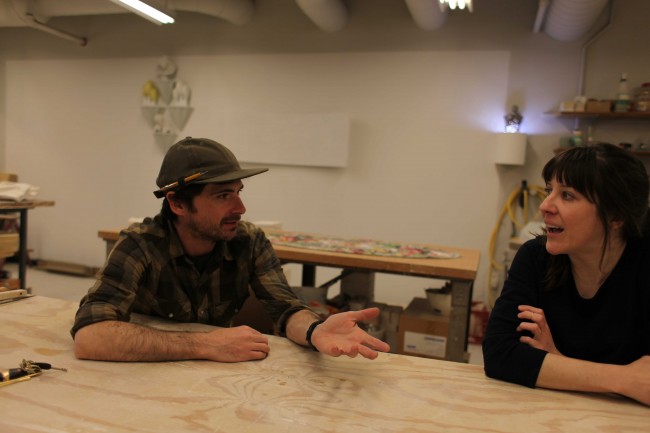 Professors with Passion
They followed Rebecca Harvey, a teacher at the Kansas City Art Institute, to Ohio State.
"When she left, three people out of our class of 10 applied to Ohio State, to go to grad school and follow her," Parker says. Harvey's husband, Steven Thurston, also teaches ceramics at OSU.
Parker, Davis and other students enjoyed working with Harvey partly because she was a younger woman with energy and passion about ceramics.
"For me, she wasn't an old man," Parker says. "We just had a bunch of teachers who were old men, and that was kind-of what we'd been brought up on. And she was a woman, she was exciting, she liked color, she was playful, she didn't take herself too seriously. And that resonated with me."
"Yeah, ceramics was dominated by dudes since the 50s, probably, and now that generation is diminishing a little bit," Davis agrees.  "So it was kind of this switch from this, you could go back to this Bernard Leach-ian Japanese aesthetic pottery, kind of raw and rustic and simple, to then seeing Rebecca was using a lot more color, firing at different temperatures, interesting pattern, interesting European decorative arts, versus Japanese tea bowls and dry wood-fire and rustic stuff."
Harvey didn't try to impress her students, and Parker liked that.
"She didn't feel like she had to throw a giant bowl to impress us," Davis says. "She was so lighthearted. She'd work in the studio at night with us, she … similar to how we have here; she had space at the school. So she was there setting an example, and that's what we like to do here: Be in the studio and show the students, 'Look, we're here, too. Yeah, it's Saturday night, but this is where things happen.'"
So Davis and Parker, who married two years ago in Cincinnati, are a second-generation ceramics-teaching couple.
Like Harvey and Thurston, Davis and Parker enjoy spending 8-10 hours per day on weekends at their DAAP studio, working on their art.
Very Hard Workers
If there's a harder working artistic couple in the region, some other pair is working way too hard.
In 2014 alone, the pair took part in 15 group exhibitions, including in Jingdezhen, China; Wales; New Rochelle, N.Y.;  Gainesville, Fla.; Cambridge, Mass.; New York City; Louisville; and several others in Greater Cincinnati and Northern Kentucky.
Also since the start of 2014 they've had three solo exhibitions: at Marshall University; the University of Michigan; and The Carnegie in Covington.
Also, they had two installations during that time, one featuring 30,000 individually hand-cut pieces of paper.
Their works are in the collections of the 21C Museum/Hotel in Durham, N.C., the Cincinnati Art Museum, the Arizona State University Ceramics Research Center, and elsewhere.
They have at least three branches of recent work that are intriguing: Ceramics from molds of abstract forms that are based loosely on bonsai trees with various patterns, colorings and textures; busts of people and animals that have backgrounds of colorful cut paper in patterned shapes; and perhaps most interestingly, fold-out room petitions that include lighting, woodwork and wallpaper-looking backgrounds that look like part of a room from an English neoclassical manor, but with motifs of science-fiction-tinted pastoral scenes (two moons in the sky, for example) mixed with Henri Rousseau sensibilities.
"We were kind of talking: It's a period room without a period. It has a lot of references, art-historically, and design and decorative arts," Davis says. "We're pulling from a lot of different things, but it's not any of them."
"One thing we seem to settle on sometimes is, 'Oh, that's weird," Davis says.
That often triggers an artistic decision, Parker says. That's when they tend to say: "Let's do that."
Each December, the couple takes several students to Jingdezhen, China, where the students for three weeks become part of a factory neighborhood of artisans who produce ceramics with help from local craftsmen and kiln operators, using some of the world's best porcelain, in world's premier area for the art.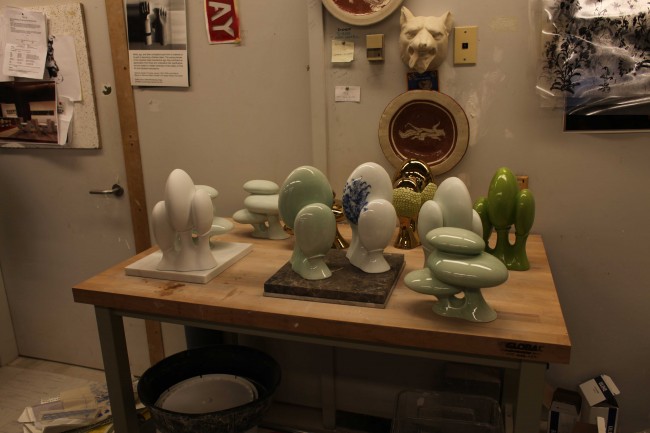 More Work Ahead
Parker and Davis say they did too much work in 2014, and by now are starting to be able to breathe again, after delivering a project earlier this month.
"This is for a show that gets delivered Wednesday, and then that's it," Parker said on a Monday a couple weeks ago. "And then we're kind of like free agents again. Which is exciting. But then I'm always scared, and maybe everyone is."
"Actually, we're booked out for the whole next year," Davis adds. The two spend a few seconds laughing together with complete joy at that good fortune, and perhaps just a little weariness.
And of course, there will be the DAAP classes they teach.
Thinking back to a writer's earlier question about why they were attracted to ceramics, Davis says the work involved probably was an attraction for them both.
"Because it's such a labor-intensive and time-invested material," he says. "Maybe it's our upbringing, but we value labor and time. There are other ways to go about all of this that are much faster, and cheaper. But there's something about us spending 10 hours a day."
Parker agrees: "We like the play, like being able to sit down. Once you have all the parts, it's all the same material. It's very easy to cut and paste, and add and subtract."
"It seems like we're always excited about the next thing," she adds. "We're happy with what we're doing."
"Mentally, I'm a year ahead," Davis notes. That sometimes makes it hard to be thinking in the present, he says: "Because I'll be, 'I want to be there. I want to be there.' You never get to it."
Until next year. In the meantime, there's more sculpting, glazing, firing, paper-cutting and assembling ahead.
–Mike Rutledge