Lisaann Cohn's recent small-format drawings in black and white inspire frequent comparisons to the work of illustrator Edward Gorey. However, at closer glance, her richly symbolic work shares a greater kinship with that of the Surrealists and other influences, such as Renaissance engraver Albrecht Dürer. The modest size of Cohn's artworks (the largest pieces in the show measure only 9" X 11") entices viewers to do just that—glance more closely. These tiny, intricate works beckon the viewer nearer, in order to revel in the artist's fine pen strokes and subtle detail, to puzzle over the meaning of her distinctive visual lexicon of bird cages, bare trees, Christmas stars, nude female figures, and curious beasts—in short, to position themselves at the very distance that Cohn would have seen pieces as she worked.
"Nostalgia and Desire" at Dendroica Gallery, Cohn's first solo show, traces the gradual unfolding of the artist's powerful, enigmatic, intimate language of symbols over the span of roughly a decade.
Cohn worked in black-and-white photography in the 1990s as a part of the Photocloset collective in the Pound Art Building on Capitol Hill. After studying at the University of Washington School of Art, Cohn continued to express herself in black and white: first mainly in graphite, then with ink and charcoal on paper, cardboard, and Bristol board. Around 2011, she revisited her old photography in a series of compositions in epoxy resin, acrylic polymer, and watercolor on wood. These pieces are tiny, many about 3.5" X 5", but they provide the largest splashes of color in the show. They can be found lining the walls of a stairwell that connects an upstairs display of Cohn's earlier works to her more recent pieces on the main level.
The lower rooms of the gallery exhibit works that reveal the maturation of Cohn's expressive technique. These drawings, rich in cross-hatching and burgeoning with mesmerizing geometric motifs in some cases, stark and almost minimalist with carefully traced organic lines and expanses of negative space in others, provide glimpses of a dreamlike world in minute detail.
The female figures that appear throughout Cohn's oeuvre, often nude and alone but occasionally in pairs or with an animal companion, establish a theme of exploration of identity and sexuality. Many of these figures offer a sidelong gaze at the viewer, as if in query or challenge, with an intensity reminiscent of portraits by painters Alice Neel or Egon Schiele, whom Cohn counts among her influences. The women's bodies also bend and twist in an awkward, angular, even defensive manner, vulnerable within lonely nature scenes or hemmed in by slightly claustrophobic architecture. These structures can be reminiscent of the work of architect and sculptor Alexander Brodsky and surrealist Remedios Varo, and recall Madame Bovary's famous garden, "longer than it was wide."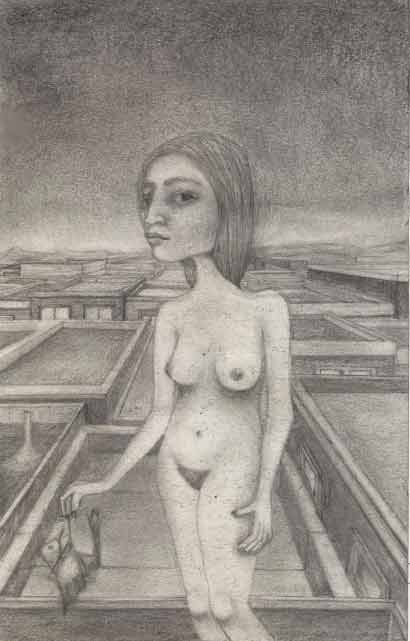 In one 2009 drawing, a nude woman dangles a trussed bird by a string, while a distorted cityscape of rooftops stretches behind her. Her feet are hidden from view, and while she stares directly at the viewer, her expression betrays little of her inner state. A sense of suspended time and understated menace permeates this image, similar to that in Belgian surrealist René Magritte's painting "The Castle of the Pyrenees." The fate of the imprisoned, flightless bird, which is implicitly linked to the woman who presents it to the viewer, appears to literally hang in the balance.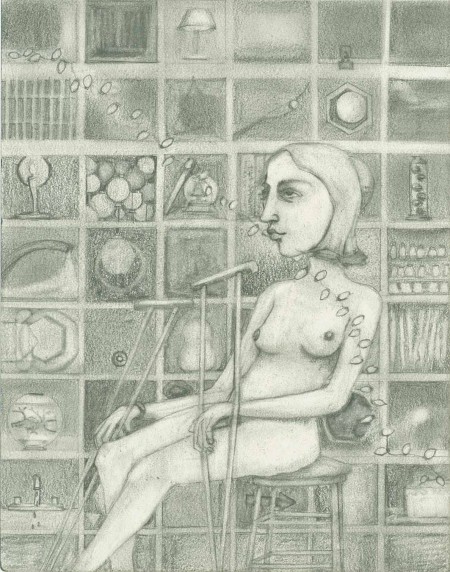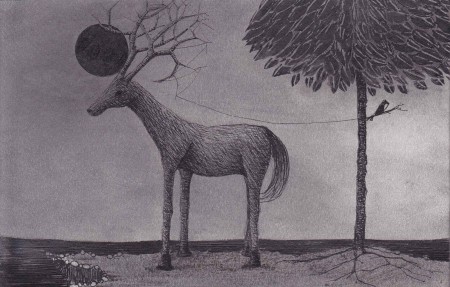 Myriad iterations of symbols—such as birds, birds in cages, flying birds clutching cages in their beaks, cages incongruously scattered throughout lonesome forests and fields—build up the impression that Cohn utilizes a visual vocabulary where each symbol functions like a word, and that meaning can be decoded by puzzling out the artist's syntax. In her 2009 graphite drawing, "things trapped in small spaces," Cohn provides a virtual lexicon of her symbols in the square display shelf behind the (naturally) nude female figure in the foreground, who lounges with crutches in the pose of a collector before a cabinet of curiosities.
Cohn's work doesn't always rely on the use of common archetypes or symbols, however. The Christmas star ornamenting bare trees or hanging from the beaks of birds has no intended christic overtones; rather, Cohn explains, it recalls for her joyful associations with the holidays. Depictions of highly specific personal memories also hide within Cohn's drawings; a view from a former apartment figures in one image, a favorite tree from childhood in another. The nostalgia and loss in these works might be known to Cohn alone, but their emotional power resonates regardless. The artist leaves interpretation up to the viewer as much as possible, going so far as to leave the vast majority of her pieces untitled.
What's more, Cohn encourages viewers not to think or analyze too much, which reflects her own intuitive approach to making art. She does not recognize any meaning in her own pieces as she composes them, and willfully so. The spontaneity and immediacy of Cohn's artistic expression can be likened to the Surrealists' automatic writing, where resonances are fortuitous and unplanned, but no less striking for it. Part of Cohn's preference for simple media and small-format works stems from her practice of drawing at the spur of the moment, outside of the studio as often as in it. In ink, graphite, and board, Cohn has chosen ideal tools for extemporaneous art.
Lisaann Cohn's work will be on display at Dendroica Gallery through Nov. 8, 2015.
–Elisa Mader is a freelance writer and editor based in Seattle