The Manifest Artist in Residency Program awarded a double position this season.  Exhibited at the Woodburn Avenue venue are the works of Samantha Haring and Marina Fridman produced during this residency term.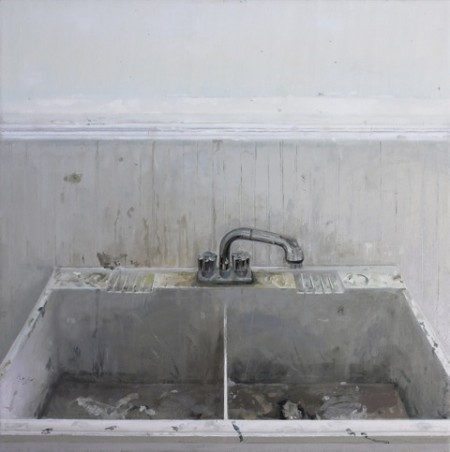 Samantha Haring is a midwest painter from Des Plaines, Illinois. Haring's exhibit is entitled "Interlude". Several medium sized works in oil and 2 pastel pieces about 14″ square fill the front exhibit room. All pieces examine in oil paint or pastel sections of white wall paint occasionally abutted to a door jab or viewed in conjunction with a section of flooring. Traditionally laid dark wood floor sections are marred with scuffing, tin patches and vacated drilled riser holes.  Abused and mislocated electrical outlets and obsolete telephone jacks appear in some pieces.
"1 Eyed Jacks are Wild" depicts two such passé communication necessities, set in the chunkily over-painted woodwork on the floor in such a way as to make a trendsetting rehabber cringe. The slanted play of light on the adjacent recessed door combines a nice play of warm and cool whites with the sculptural surface of wood work detailing.
Another larger painting, "Step Right Up", explores the typical double basin studio sink. Mounted onto a multi-coated white bead board, the sink does not hide its history of splashy brush cleanings. The double basins drop down behind the frontal lip of the sink the illusional qualities of which are enhanced by the real time blue-grey shadow cast by the painting's stretcher on the gallery wall. A single vertical brush stroke in white sharply divides the deeper gray and mauve slurry in the lower basins.
Two small paintings are of white wall sections featuring one post-it note of florescent orange or bright blue.
The actual painting surface, though painty in nuance, exhibits no excitement about the process of painting and confronts the viewer with its inaccessible non-narrative. There are no revelations or aha-moments detectable in the work. These works are quiet, meditative exercises on the artists' studio environment. Devoid of interpretive paint handling, the pieces perform as an intensive recording of an observed segment of no particular consequence.
Marina Fridman, born in Russia 1989, is now a Canadian multi media artist.
Her exhibit entitled "Panta Rhei" is even more devoid of content or message. She exhibits a series of pours that counterplay the properties of clear resin pours with opaque concrete pours. In a large horizonal format. approximately 3′ x 10′ in length, the irregular segments of each material are arranged to imply tension as the white gallery wall and its tributaries flow through the abstracted flattened surface.
The opposite wall displays "Eternal Flux". Resins and concrete are here poured together, becoming a wall graphic of a series of unknown continents or some other personal interpretation. Transparent crystalline upper regions dissolve into gelatinous deep silver grays. The southern terminals are defined with pours of opaque concrete edging.
Opposite walls feature clear resin in 6 broken circle pours, allowed to solidify in various patterns. There is an overall delicate laciness throughout these pieces.
Both MAR recipients have received several residencies as well as participating in notable exhibit opportunities.
–Marlene Steele teaches and paints in Cincinnati Ohio.