A unique way to see art is to stop by a local coffee shop or restaurant. There are several in the Greater Cincinnati area that afford this opportunity.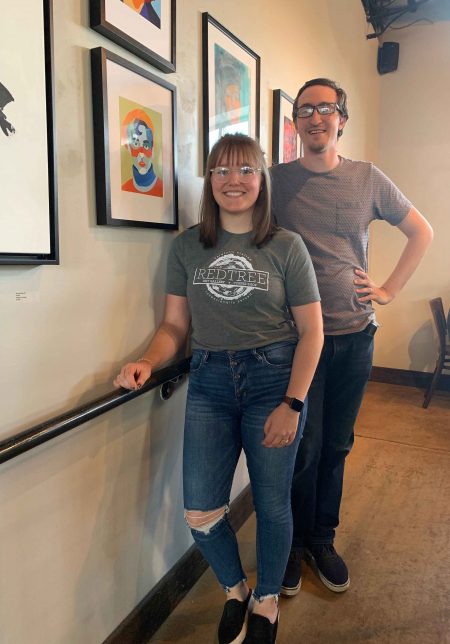 First stop on my tour was Awakenings Coffee Shop, owned by Ed Walter on Hyde Park Square.  Retired music business professional Stan Hertzman took over from previous organizers and started a gallery exhibiting local artists, some of whom hung out at Awakenings.  One of his first artists was Pam Jarrett, a classic portrait, still life and landscape artist who is also now painting once a week in the National Gallery of Art in Washington, DC.  Hertzman attended some local Final Fridays to find artists to show their work at the coffee shop.
Hertzman found more space available for artists, eventually four walls.  Local artists and now retired teachers from Summit Country Day Mark and Jan Wiesner stopped by for coffee and became regulars.  When Hertzman stepped aside from his curating role, he asked the Wiesners to take over the duties.
Jan said they looked for artists who have a voice.  "You need artists who speak," said Hertzman.  From a few artists, the Wiesners decided they would show one artist in a one-month period.  "There are great artists out there," said Jan Wiesner, "but not a lot of people know about them."  The Wiesners also looked for diversity of art work.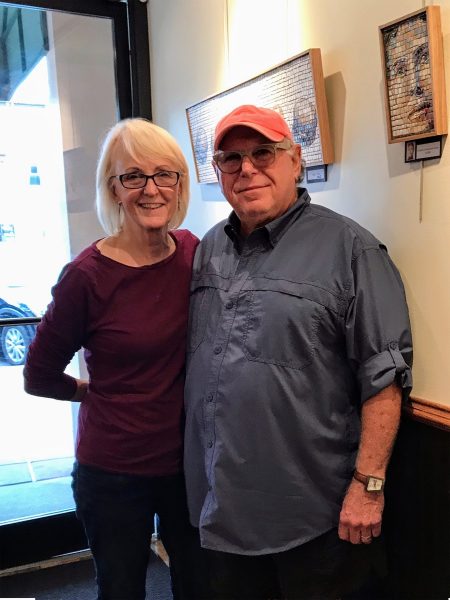 For example, the current showing is mosaics by John and Marcia Koverman with a display of donuts as well as cherries.  The Wiesners accept any media, but they ask for images first and then once accepted, artists are given guidelines.  "It's all about the artist," Jan said.  Occasionally, there are private openings.
The first Saturday of the month at 8:00 am is the installation date.  What makes this Saturday unique, according to Jan, is that visitors to the coffee shop see the art and engage the artist in conversation, which may not occur at a gallery opening.
"It has been exceedingly fun," said Jan.  They thought of expanding to another venue, but are content in the current location on Hyde Park Square where there is a lot of foot traffic.  Biographies of artists and business cards are available.
Hertzman said artists need to think about the number of pieces they want to show and which media to provide some continuity to the show. Track lighting and installation assistance are available.
"We have been lucky," said Jan.  The success of the artist's sales shows the value of foot traffic.  There is also the ambience of Awakenings, including a relaxed atmosphere with cozy tables and a variety of coffees and wine.  Regulars have hung out there for years.
Another aspect to this story is Katia Zhestkova, who works for Paint Nite/Yaymaker, a company based in Boston.  Two men started the company six years ago and offered art events at restaurants and bars.  According to Zhestkova, "The concept is very simple:  people buy tickets through our website and they come to one of the restaurants or bars that we partner with.  Our guests paint with us for two hours.  The event is lead by an artist and all the steps of the painting are explained."  Some of the venues are The Pub at Rookwood, Joe's Crab Shack and Dingle House Irish Pub.
A professional artist all her life, Zhestkova has worked as an art director for an advertising company as well as freelancing.  "I love doing Paint Nite events because it gives a chance for people who have never had the pleasure of being involved in art activities to explore their creativity.  To me it is very satisfying that is their own.  In my opinion, these events prove to regular people that art is not elitist."
Another restaurant that features art is Taglio's Bar & Pizzeria, 56 E. 12th Street.  Owner brothers Nicolas and Jared Wayne opened the restaurant in June 2019.  It followed their restaurant Atavola, also in Over-the-Rhine, which opened in 2011, the third of several restaurants in the area.
Originally a lawyer, Nicolas joined with his brother, a Realtor, in their wish to start a family business together.  Nicolas and his wife had dinner with Jared one night with pizza Jared prepared.  The seed was planted.  They began a start-up in Northside one night per week in 2009.  It took one year to find a location and one year to build out Atavola.
Taglio's in Over-the-Rhine features local artists on the wall.  "My brother and I love art," said Wayne.  "We grew up with it."  They travelled widely and their parents collected art.  Nicolas has a B.A. in art history.
3CDC offered a partnership to the Waynes to get the Over-the-Rhine restaurant up and running. "It was a risk," said Wayne.  As a native Cincinnatian, "I understood the history of the neighborhood.  It was part of a Renaissance. We wanted to be part of a neighborhood revitalization," he said. In concert with their commitment, they joined the OTR Chamber of Commerce.  "We participate in community events," he added.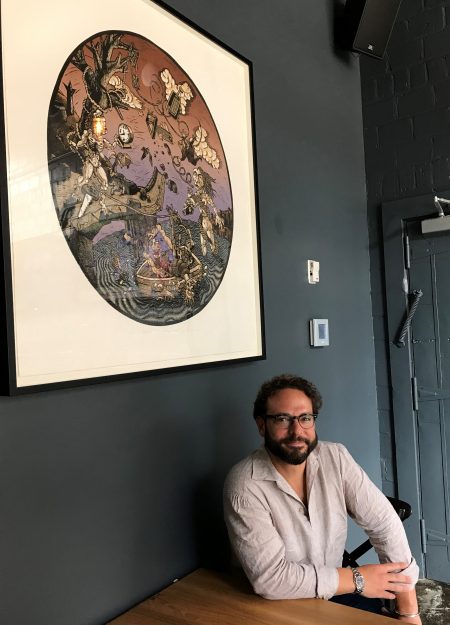 With the Art Academy of Cincinnati and the School for the Creative and Performing Arts nearby, the restaurant is essentially a sports bar with pizza.  The Wayne brothers wanted to add art to the dining experience.
As the dining setting is casual, the Waynes chose modern 21st century art for the walls.  They wanted more graphic and more striking art.  Does it draw the diner in?  They visited galleries and auctions to purchase pieces by such artists as Jay Bolotin, Mark Patsfall, Lisa Jameson, Michael Scheurer and Yvonne van Eijden.  The artwork remains for a year on the walls of the restaurant and unlike some other venues, it is not for sale.
A lot of interest came from the diners who engaged the servers with questions about art.  Nicolas prepared a one-page fact sheet with information about the artists.  Even the Waynes' father brings in pieces from his collection from time to time.
Wayne said there is more engagement than the typical restaurant with Taglio's, which means slice in Italian.  The restaurant has 120 seats in a large leased space. Opened in June, the restaurant is drawing people by word of mouth.  The ambience with basic tables and chairs has an urban downtown feel.
Wayne said, "Cincinnati has a rich arts scene.  We're part of that fabric.  We highlight local artists and promote art that is approachable.  A lot of our staff get excited about the art.  That appreciation goes a long way."  He hopes to pique younger generation's interest.  "I like being able to do that," he said. "Having art fun and interactive:  it's a clean slate every day," he said.
David Tape, former owner of Mullane's Parkside Café which closed, found another restaurant – Ruth's Parkside Café in Northside – to open.  Located in the former American Can Factory at 1550 Blue Rock Road in Northside, the Café offers lunch and dinner with 95 seats in a space of 3,100-square-feet which consists of a dining room, kitchen and prep area.  His co-owner is Mary Kroner.
Tape rotates the art and artists every two months.  Currently, the work of Maxine Seelenbinder-Apke, who specializes in handmade paper collage, photography and marbled paper, is on display through August 31.  She said her show "Fragile Nature has to shift our attitudes away from negativity, and instead focus on promoting, nurturing and preserving ourselves and our natural world."
Tape worked at the New School as a facilities manager.   He eventually became executor, guardian and trustee of Mullane's when owner Kim Cole died.  He took over in July 1990 and stayed until 1999.  Tape showed over 90 artists at Mullane's during his tenure.
Also, during the mid-1990's, he served as member of the Regional Cultural Planning Committee & Regional Cultural Alliance as well as a member of the Arts Allocation Committee, City of Cincinnati.  He was a Corbett Award finalist in the category of Business Supporting the Arts in 1992.
Tape said, "I was always interested in art."  He visited the Art Institute of Chicago every summer.
Ruth Cummings was the bookkeeper for Mullane's.  When she died, she left a bequest to seed Ruth's Parkside Café, which opened after Tape's 60th birthday in 2013.  He said, "There is one more hurrah in me."   A stimulus package from the federal government also helped with the financing of the restaurant which Tape leases from Bloomfield Schon.
Kroner and Tape planned to include art in the restaurant even though the emphasis is on dining.  A huge angel created by Jay Bolotin hangs over the central part of the restaurant.  One of the early shows was that of Michael Wilson, who had an opening of photography from Bolotin's opera "Limbus."
Tape continues to attract artists to the walls of the restaurant open for six years.  He had contacts with several artists.  Those who have shown include Michael Frasca, Steve Lansky, Jan Nickum, Pat Olding and Tina Gutierrez.
Tape takes an individualized approach to obtaining artists.  Each April, he makes an appointment with interested artists.  He goes to the artist's studio or home, looks at the work and interviews the artist to see if they would have a good working relationship.  Some of the work is for sale with a modest commission; some is not.  Tape said, "It's a restaurant."
Every two months, Tape changes the artist and art.  Once a year, he chooses an emerging artist to feature.  In July and August 2020, he will display work from the Hilltop Art Club of Greenhills.
Although Tape focuses on the dining experience with food and customers, he thinks the Café fits into the Cincinnati scene and is an accessible place to show art.  For example, over 150 people per day can see art on the wall.  "Exposure is more than at a gallery," Tape said.
Some artists are supporting themselves through art; others have day jobs.  Tape has many more artists interested than he has space.  As a result, he is booked one year ahead.  Not everyone likes every artist, but that is true of any organization where there is a difference in personality or work.
At Redtree Art Gallery and Coffee Shop, a 2,250-square-footage art gallery which added coffee, Kyle Sweetman started as a barista, but quickly thought the space would be ideal for art.  Redtree has been open for 12 years and for 10 years at the Madison Road location in Oakley.  Previous owner Wendy Smith highlighted all local artists for five years.
Sweetman said, "I have always wanted to own a coffeeshop featuring community engagement.  I like people.  Originally from Cincinnati, he thought of starting his own coffee shop from scratch, but along with two business partners Dan Wiggins and Patrick Henshaw, he was able to purchase Redtree.  While 85% of the business is coffee, Sweetman wanted to add art.
He found an employee Emily Hanes, a Xavier University student with a major in art education and coffee experience.  Although art provides less revenue than coffee and consigned items such as t-shirts, mugs, jewelry and cards, Hanes has her eye on local artists.   She works in conjunction with Sweetman to have an open call to artists six times annually and coordinate events.  There is the traditional opening show usually with 10 to 15 artists.  Solo shows are pre-selected.
Hanes and Sweetman chooses themes such as 'innermost voice' for their shows.  Ideas for the future include form and function featuring 3D work, abstract, and wording and script.
Redtree tries to support emerging artists in a variety of media, including fiber, painting, photograph, multimedia and drawing.  Many of the staff are budding artists.  Hanes has a ceramics studio.  Barista Maya Collins is a photographer who provided pictures for this article.  Sweetman's wife creates jewelry.
Under consideration are being a dedicated venue for FotoFocus in 2020.  Hanes and Sweetman also want to reach out to college age students 17 – 25.
Enjoy art along with a cup of coffee at a variety of restaurants or coffee shops throughout the city.