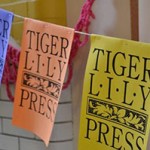 Saturday, November 2,  11 a.m. – 5 p.m.
The sale is located on the 2nd floor gallery at: Clifton Cultural Arts Center  3711 Clifton Ave. Cincinnati, Ohio 45220
Tiger Lily Press will offer fine art prints for sale by local printmakers. Meet the artists and hear them explain their wonderful techniques for making art. Enjoy original etchings, screen prints, woodblocks, collagraphs, lithographs, linocuts and more. Tiger Lily Press is also pleased to offer work for sale from the talented Cincinnati Book Arts Society artists. To learn more about Tiger Lily Press's activities click here.