Shortly after the release of Justin Van Hoy's 2012 curatorial publication Milk & Honey: Contemporary Art in California, his life came to an untimely end. At just 31, the accomplished artist lost what had been his second battle with cancer. While Van Hoy had found success at a relatively early age due to his prodigious ability to shuttle between fine art and design, he remains celebrated for the unabated support he lent to most every artist who reached out to him.
As co-founder of THIS gallery in LA's Highland Park, Van Hoy developed a reputation for staging monumental group exhibitions that, at their core, demonstrated California's collective attitude among artists. Lucy Rose, a contributor to Van Hoy's publication, aptly articulates this energy: "It seems as though everyone wants to grow this culture more—not to compete with bigger and 'more established' art cities but to gain recognition and awareness for the culture that is so prevalent here."
Van Hoy died in 2012, and after THIS gallery closed, Slow Culture opened in its place, intent upon upholding Van Hoy's mission to cultivate community. By providing a multi-purpose creative space, the gallery is configured for flexible programming options that include artist exhibitions, installations, lectures, workshops, creative meetings, and retail pop-ups.
Since opening its doors, Slow Culture has curated more than thirty-two shows, an ambitious repertoire for any gallery in such a brief time. For their two-year anniversary this past August, the gallery chose to celebrate their appreciation for THIS gallery by curating a show featuring the 45 artists whose work appeared in Van Hoy's last artistic endeavor, his book, Milk and Honey: Contemporary Art in California.
Slow Culture's celebratory group exhibition reveals a genuine respect for the legacy of THIS Gallery. Even more, it provides an accurate portrait of California's collective art scene where artists working in various genres and at differing levels of success continue to enjoy participating within a nurturing environment.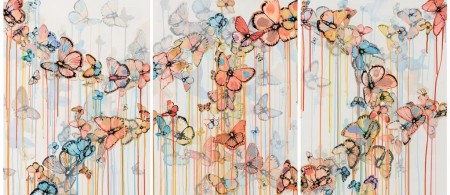 Upon entering the exhibition, viewers first encounter Sage Vaughn's triptych "By Way of the South" (2014). This vibrant watercolor, comprised of hundreds of carefully drawn butterflies in ink, reveals Vaughn's intrigue with nature and man's intrusion upon it. A symbol of change, the butterfly has been a constant throughout much of Vaughn's recent work, representative of his desire to impart "a bit of optimism in the human condition."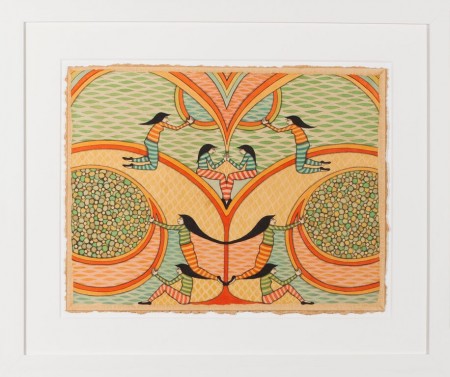 On the same wall is a piece by Mel Kadel. "Carry Your Weight" (2013) is indicative of Kadel's aptitude for creating intricately layered pen and ink pieces comprised of stained paper that she carefully cuts and then reassembles to create otherworldly scenes where various creatures and women cohabitate against backgrounds of repetitive yet beautiful patterns.
A few steps to the left is one of Ed Templeton's figurative paintings. Also known as a photographer as well as a professional skateboarder, Templeton reveals a voyeuristic nature. His background in photography enhances his uncanny ability to translate the everyday into the unusual as is evident in "Eager to Help" (2014).
On the gallery's opposite wall hangs "Shooter Down #2" (2011), Gregory Bojorquez's iconic photograph that made its way to the front page of the Los Angeles Times. The intense image shows a man on the ground just moments after being shot by the LAPD on Hollywood Boulevard. Already established as a photographer of people with whom he grew up in East LA, Bojorquez happened to be at the scene and therefore seized the opportunity to freeze this historic moment on film.
Nearby is a piece by Souther Salazar, an artist who borrows from the school of illustration and uses narrative as a tool to actualize his ideas. Reliant upon a variety of mixed media to recreate old memories and evoke what he characterizes as "the wonders and imagination that many of us abandoned in childhood," Salazar's work conveys a playful sensibility that is both refreshing and unique.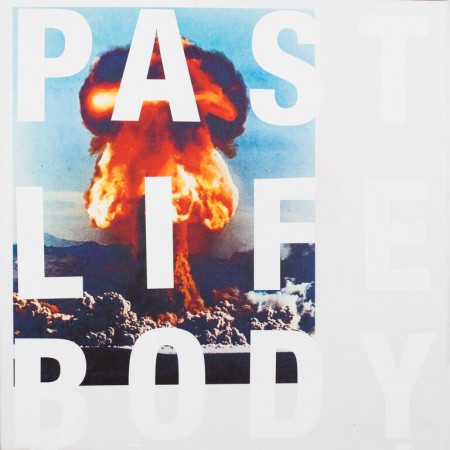 Reflective of a much different style is Cali Thornhill Dewitt's "Past Life Body" (2015). An artist formed by a career in music, Dewitt's preoccupation with subculture is exemplified in his juxtaposition of the serious against the ridiculous. Combining text with imagery, Dewitt imparts thoughtful commentary about the ways in which our overexposure to social media corresponds to the ways in which we address propaganda and advertising as a whole.
Another featured artist also finding inspiration through music is Ben Venom. While the content of Venom's work explores deviant culture, he recalls the old tradition of quilting to create large-scale pieces made from recycled material. While this technique seems to run counter to the subjects in Venom's work, the artist sees it as a way to extend the DIY aspect associated with punk rock, a movement which proved formative in early years to his view of the world.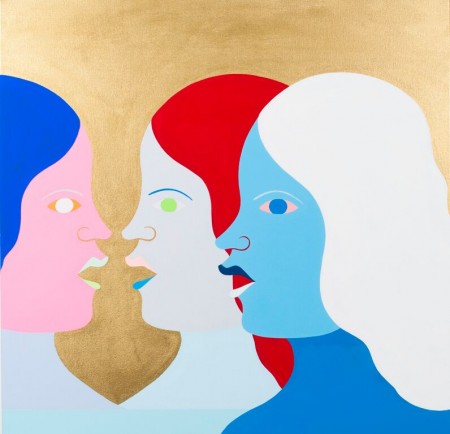 Also of note is Richard Colemen's "Two Figures and One Figure" (2014), a painting from the artist's newest body of work that investigates human interaction and social hierarchy.  Seemingly simple compositions are in fact richly layered in content, which Coleman achieves by symmetrically balancing figurative imagery against bold, color-blocked geometrics.
The principle commonality uniting all artists featured in Milk & Honey: Contemporary Art in California is that all elected to make California their home base. What remains most refreshing about this series is that no one artist is given preferential display. Works by established greats such as Ed Ruscha and the late Chris Burden are mounted alongside mid-career and emerging artists whose work, shown collectively, give voice to the incredibly broad range that contemporary art encompasses today.

Also appearing in Milk & Honey: Contemporary Art in California are works by Aaron Farley, Aaron Ruell, Andrew Schoultz, Bill McRight, Christopher Bettig, Chris Duncan, Cleon Peterson, Curtis Buchanan, Damon Way, Dan Monick, Day 19, Emily Shur, Erin Garcia, Florencio Zavala, G. Lewis Heslet, Lana Kim, Harper Smith, Hassan Rahim, Jared Eberhardt, Joel Morrisson, Joey Gallagher, Jon Rajkovick, Justin Krietemeyer, Kevin Earl Taylor, Megan Whitmarsh, Matt Goldman, Pearl C. Hsiung, Retna, RJ Shaughnessy, Robert Therrien, Shelley Leopold, Steven Harrington, Travis Millard, and Ye Rin Mok.
–Anise Stevens