If you have the chance to meet Lizzy Duquette, take the opportunity to sit with her for a moment. She is quiet and shy. She might hesitate to speak first. With the right prompting however, within seconds you will see that she has the mind of an artist — teeming with big ideas and in tune with the natural rhythms around her. Her reserved demeanor makes her all the more alluring, leaving those around her curious to see the world as she does.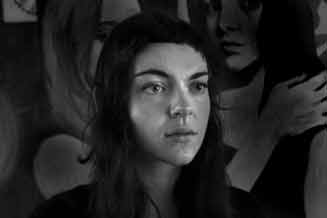 Lizzy Duquette is a visual artist living and working in Cincinnati, Ohio. Child of a carpenter/inventor and an art teacher, Duquette had opportunities to build and draw throughout her childhood. Studying printmaking and drawing at DAAP, Duquette has always had an affinity for 2D media. However in more recent years her work has expanded into large scale sculpture and multi-media installation. She has been set designer for several local theatrical productions, has created collaborative sculptures for musical performances and currently has a sculpture featured in the Unmuseum at the Cincinnati Contemporary Arts Center.  Still, she knows her roots and sees the influences of drawing in everything she does. "In an interview, one of my favorite artists and humans, Laurie Anderson, gave the advice to young artists to call themselves multimedia artists, so that way you can do whatever you want. Maybe because I change my mind too often, or maybe because I get excited by different things, or maybe because I want to be just like her, I really like her advice. I think drawing and illustration is where even my three-dimensional work takes form. I like to make art installations and theater sets that look like my drawings."
Duquette's drawings have a freedom and looseness that cannot be taught. Her drawings show a keen understanding of the human form and face while maintaining a childlike innocence. "I used to think I was just being lazy because I didn't want to focus and draw in a realistic way, but now I think it is freeing. I like when drawings feel honest." And Duquette's drawings accomplish just that:  they exude an honesty and come-as-you-are attitude which are both inclusive and accessible.
"I like human forms, I like the way humans can express themselves from their shapes and movements. I like biology and botany and growing things. I like absurd objects and magic. I like when there is a blurry line between what is real and what is pretend." says Duquette.
Experimenting with her Dad in his workshop, Duquette has developed an intuition for creating space and transforming wood and paper into objects that seem delicate, magical and as if they could come to life at any moment. Her sets and large scale sculpture pleasantly sweep the viewer into the magical world of her making- filled with washes of color and delicate quivering line work.
Duquette has collaborated with numerous theatrical and musical groups around the city to create an immersive experience which combines visual art and music. In late 2015, Duquette worked with the Queen City Chamber Opera as set designer, creating a 10 foot long by 6 foot high dragon puppet complete with glowing eyes and a moving jaw for their performance of 'Siegfried II'.
Collaboration with musicians is central to much of her work. Her illustrations can be found on the covers and concert posters of local bands and musicians such as the Happy Maladies, ADM, Lazy Heart, Jennifer Simone, and Honest Abe. Immersed in Cincinnati's thriving experimental music scene, which is fostered by a tight knit group of young creatives, Duquette's work has come to embody this community oriented group of young musicians and artists working together in Cincinnati. "For me, it is more exciting to collaborate with musicians on shows at bars than to make things for a gallery with the intention of selling a picture in a frame" says Duquette. Duquette's interest lies more in bringing people together. "I admire my musician friends so much! I think they are really doing the coolest and most important things, like bringing people together to have shared experiences."
Her fluidity working with musicians does not stop there. Duquette's work was also featured in a unique performance at the Cincinnati Contemporary Arts Center by local violinist Eddy Kwon and three other performers. 'a r c h i p e l a g o' featured a string quartet, positioned throughout the second floor gallery of the CAC.  "The quartet is blindfolded and wearing headphones that are blasting white noise. The musicians are all playing the same part that is memorized with all these complicated cycles of counting." Slowly and methodically as the music continues the musicians fall in and out of sync with each other, allowing for the  study of each performer, their patterns, their styles and their inherent humanity as individuals and not just music makers. "The music has a constant droning part that is happening all around you, and it feels so big and expansive, like the ocean or outer space, and it feels like it is slowly spinning. It feels primordial, that's why I wanted to have a central light source. The audience is in the middle, moving slowly around, isolation, disconnection, alone, dissonance, meditation, heart rate, body, wide, slow, structure, individual sense of time, mystery, counting."
Duquette's contribution included two large sculptures, one standing against the wall, one central to the performance space. Simple and unassuming, the pieces glowed in the dim gallery as the one constant throughout the performance. On the wall, a large black circle slowly rotates against another glowing circle set against a light box. The dark circle, floating above the light, creates every combination of the waxing and waning moon, deliberate and steady as the musicians around it become more and more out of sync. The circle stays constant, like the moon in the sky, moving forward as it always has, as we below spiral in and out of control.
When creating new works, her ideal workspace consists of "a big surface to spread out all my stuff and lots of paper and lots of different pens and pencils. I like working on things with other people around, whether we are working on the same project, or separately, but in the same space." Duquette values having creative people around her and considers it central to her working habits. Many of her undertakings require a partner or team of like-minded artists to make it happen. This collaborative approach comes up time and time again when looking at Duquette's body of work.
One of her most beloved pieces is Wobble, featured in the Unmuseum of the Cincinnati Contemporary Arts Center. Wobble invites viewers to relax inside of an egg shaped pod created from canvas, wood and fiberglass. "Wobble was a collaboration with my best friend, Lisa Tompkins… Because it would have many visitors, we needed to design the chair to be as durable as possible. I think it feels slightly different from other projects because of that." Although Wobble couldn't maintain the same delicacy of some of Duquette's other work, its design embodies the same whimsy of Duquette's illustrations and is just as inviting, complete with a fur lining inside. Wobble has served as a stepping stone into her exploration of three dimensional work and was an introduction for many to Duquette's body of work.
Beyond art making, Duquette is an active member of the Price Hill community. She works with MYCincinnati Youth Orchestra on visual art projects, serves on the neighborhood community arts council and has hosted free life drawing sessions for fellow artists.
Lizzy is a wonderful example of the thriving community of young passionate artists in Cincinnati. Her collaborative attitude is indicative of a larger movement towards supportive art making and group oriented projects among millennials. As for Duquette's future projects, we can expect "more sets, more drawings, more costumes, and GIANT PUPPETS!".
–Chelsea Borgman is an artist and writer living in Cincinnati, Ohio. She runs the C-LINK Gallery at Brazee Street Studios.