Truthfully when I walked into the CAC Thursday night I was only thinking one thing, I'm about to willingly see my first uncircumcised piece of man bits because of art.
In an age where government officials and fundamentalists argue over the labeling of gendered bathrooms and most women are openly appalled at the amount of "dick pics" that slide into their DMS (direct messages – for you non-millennials), I was choosing to subject myself to two white men who travel the world slapping, pinching, twisting foreskin, and exposing themselves to the world as performance artists.
Upon entering the familiar blackbox space, I was surprise to be greeted by two totally clothed and totally hipster looking dudes in what appeared to be a moderately easy acro-yoga pose. As the minutes went on Gui Garrido started a bit of a standup routine, talking and engaging with the audience, while the red-bearded Pieter Ampe began to buckle under the weight.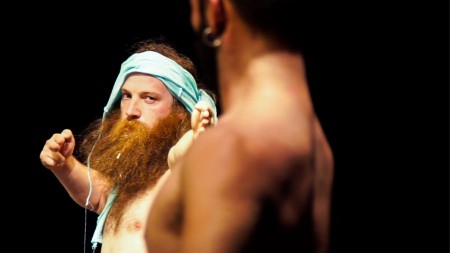 While this was going on Gui playfully turned around and began to squeeze Pieter's stomach flab like a sorority girl in a hazing ritual trying to find ever imperfection. Gui then began to describe his partnership with Pieter and asked for adjectives from the audience – his last words before being thrown to the ground were "Magnanimous", which his accent drew out to sound like an incantation.
Pieter turned from a silent pedestal to a hissing, golem-esque vampiric monster that shuffled across the floor. Without any special effects it seemed that even his beard had come to life to terrorize the playful, impish Gui. The episode reminded me of the beginning of Kubrick's "2001: Space Odyssey" where the terror comes from the feral becoming evil and intelligent simultaneously.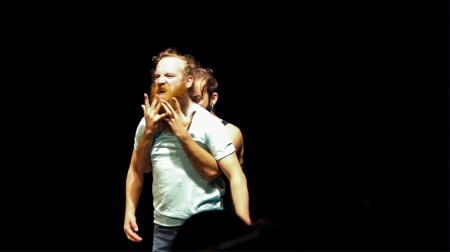 As Pieter continued his routine of terror, looking more and more like what can best be described as the un-medicated bipolar brother of the cowardly lion in 'The Wizard of Oz', Gui floated around the stage mostly staying on top of Pieter in choreographed dominance.
The crowd felt tense as they flowed from move to move, and I had no doubt they only had one thing on their minds as well – Where is the nudity? We came to be shocked! We didn't have to wait too much longer. What started as a playful wrestling match escalated to shirts being torn open, belts being pulled off then used to slap one another, and eventually led to a full on stripping that escalated when Pieter disappeared behind the curtain only to reappear with his underwear over his head and the rest of his body exposed to the world (or just the 40 or so people in the black box theater).
The smell of sweat and body odor drifted through the crowd and Gui and Pieter began to size each other up. They slapped and pulled and prodded one other, using each other's foreskin like a rubber band. Freud would have had a field day with all the physical penis envy playing out on stage. From slapping their penises on their stomachs like a war cry to playing two man twister with each other's foreskins, this display of manly dominance, playfulness, mutual comfort, and closeness seemed almost tender. It was not the romping stomping campy S&M performance piece I was expecting based on previous reviews.
It ended with a gentle moment, with Gui rubbing Pieter's feet on his face (which was BY FAR the most disgusting thing I saw that night – nothing against Pieter Ampe, Pieter your feet are beautiful – but I'm guessing Gui probably didn't have an older brother who terrorized him with smelly socks) and as he rubbed the soles against his cheeks he even gave them a light kiss that seemed like a thank you for all the hard work they had done in the previous hour.
When I walked out of the BlackBox Theater my phone lit up with text messages
"So how was it? "
"*Eggplant Emotji* Penis! Haha!"
"Can't believe you had to go to that tonight"
I was pleased to respond to all of them that it was great! It was fun and it was funny!
I can't count the number of times that Art has led to me to experience a "first" but Thursday night was no different. This final performance for the 2015-2016 Black Box Theater at the CAC was not the most challenging or the most emotionally charged, but for me it was a winner.
–Katie Dreyer