The exhibit, "Uncovering: Our Beauty, Strength, and Fragility" opened at Wash Park Art Gallery on May 20, and continues through June 12. The show features the nude figure, portrayed in a variety of media and styles, by nine artists: Tina Gutierrez, Ray Hassard, Carin, Marlena, and Robert Hebenstreit, Marsha Karagheusian, Setsuko LeCroix, Tom Post, and Marlene Steele. The opening was well attended, despite the cold rainy night, and the bodies of the visitors packed into the gallery's space, exuded an aura of exhilaration and magnetism, as the life force in the room intertwined with the life force embodied in the art.
Holly Doan Spraul, gallery owner, exhibit curator, and a lively, insightful individual, expressed an affinity for the human form in art, whether clothed or unclothed.  Our discussion touched upon our shared attraction to this genre, and its historical significance. An interesting observation by Ms. Spraul, is that customers often hesitate to purchase this type of art, expressing disinterest in owning pictures of "somebody else" rather than themselves or family members.  This was a surprise, as the obvious hesitation one might expect, is concern about having a nude displayed in one's home, and the prudish scrutiny anticipated from guests.
Several individuals (all happened to be men) who knew I was reviewing show, made joking comments indicating that they envied my task of reviewing the nude exhibit, though perhaps not in the manner that I think the curator or the artists intended. I will say that the rain soaked guests brushing against and past one another to see the art was the sort of mosh pit of bodies these folks would have found particularly appealing. The men's remarks harken back to a point made by feminists in the '80s, suggesting that most nude paintings throughout European history, were made for the "male gaze", for male delectation of female flesh/nudity.
To elevate the discussion a bit, art history surrounding the nude figure documents a tremendous variability in the willingness of different eras to embrace the subject matter, and an evolution in use of the genre to depict societal themes unique to the times. Nude sculpture dating back to 35,000 years B.C. portrayed female bodies in distortedly curved, faceless forms, emphasizing fertility. Classic Greek sculpture glorified and idealized the (mainly male) human form as a reflection of striving to achieve human perfection. Biblical scenes after the rise of Christianity, often used the nude figure only to convey shame, and often draped the figures. In the 13th century, nudity was embraced in art, and it became a respectable theme. Nude models, usually men, were thereafter commonly employed in art training and by the 16th century, Leonardo Da Vinci applied an in depth study of human anatomy– and much more– to produce work that astounds us today.
Over subsequent centuries and into the present, the nude figure in art has come to include equal representation of female and male forms.  The nude has been shown in everyday scenes such as bathing or dressing (as in Degas sketches), as well as part of larger reconstruction of mythological tales and battles. At times, only the beautiful or pretty human form has been emphasized, while other painters and sculptors have more realistically depicted people's flawed, imperfect bodies and faces, as well as human wretchedness. The prostitutes in drawings by Van Gogh or the Cubist portrayal of the nude in Picasso's, "Les Desmoiselles d'Avignon" depict women as damaged, exploited commodities.
Depending upon the manner and style of portraying the human form, the nude as an art genre over centuries has elicited reactions ranging from a deep appreciation of the skill of the artist in capturing the complexity of this remarkable creation, to a unique connectedness and affinity for the subject as a fellow embodied soul, to outrage at the overt (or perceived) sexuality conveyed in the art.
The work of the artists shown in "Uncovering: Our Beauty, Strength, and Fragility" demonstrates tremendous talent in capturing the essence of human form in a worthy tribute to the nude in art tradition. The nude figures in the drawings, paintings, photographs, and ceramic relief sculptures are deeply emotive–supremely sensual– in some pieces–, illustrating human strength and vulnerability simultaneously.
Starting with the simplest of media, Robert Hebenstreit's charcoal nude sketches represent the fundamental and hugely important classical practice of drawing a posed nude model.  A wonderful teacher himself, Mr. Hebenstreit, contributed to the exhibit, drawings illustrative of all of the core strengths one must develop as an artist. He captures bodily weight distribution, human anatomy, and shading with an ease that all aspiring artists struggle to achieve. Ray Hassard's expressionistic pastel drawings employed color in a hugely appealing way. The nude images rendered with sensitivity, and vibrantly unrealistic coloring (in an approach one may liken to landscape drawing), added a unique type of visual interest that classicism cannot achieve. The color, combined with the spontaneous splashes of lines and strokes in the backgrounds add masterful motion and detail. Tom Post's oil paintings of nudes are on the one hand, sculptural in quality, also with landscape-like approach, but employing a somewhat more muted oil palate than Hassard's pastel pieces. Post's broad strokes and loose application of paint provide an abstract nuance to the nude figure which is extremely appealing.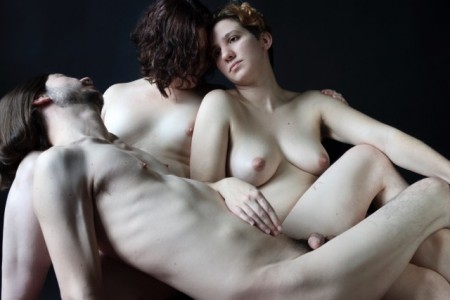 A number of the pieces are reminiscent of the poses, settings, and styles observed in famous works of art. The prone female model on a velvet sofa, lying on a drape, in Marsha Karagheusian's beautiful oil rendering, "Reverie ", harkens to the painting of a fourteen year old girl (one of the mistresses of King Louis XV of France) in Boucher's, "Miss O' Murphy,". The Pieta is a biblical reference in Tina Gutierrez' elegantly composed and technically polished photographs "The Missing Mary:  Pieta" and "The Missing Mary: Receiving the Body ". In these photographs, the Christ figure is exhibited more intimately than traditional style would allow, resting against other nudes, himself fully naked and undraped, an unacceptable practice in early Christian art. The face shown in Marlene Hebenstreit's, "Lorelei in the Green", immediately caused Ms. Spraul and me to recognize the similarity to the loosely represented, eerie faces in famous Goya paintings.  Marlene Steele's quick watercolor renderings of male figures, along with her oil painting, "Couch 2" provide the viewer an instant remembrance of Michaelangelo's exaggerated muscular  bulk and curvature in male forms occupying the ceiling of the Sistine Chapel. Carin Hebenstreit's magnificent oil painting, "Aurora at Sunrise", depicting a beautiful woman holding a fabric piece or towel, is a composition observed repeatedly in nude art tradition.  Carin's elegant use of white is striking, and similar to the distinctive light effects in famous paintings by Rembrandt and Degas. Her daughter Marlene's stunning nude in reclining pose with a fan reminds us of the frequent use of this accent prop in classical art, and the famous nude "Olympia" by Manet.
Ms. Steele's vastly different styles of painting in watercolor  as opposed to her tighter application of oil paint also evoke respect for the ability of some artists to produce work in a variety of styles and media, leading one to question how the work was produced by the same artist.  Marsha Karagheusian's ceramic relief sculptures of seaside nudes in France are drastically opposite from the style employed in her realistic, very classical nude oil paintings. Setsuko LeCroix's sensitive graphite drawing, "Meditation", is lovely, with attention to shading and rich facial detail, contrasting nicely with the soft blurriness of body and facial form in her skillfully executed oil paintings.
The sensuality, textural feature, and tonal value of skin, along with the gentle delicacy of Ms. Gutierrez' studio photographic shots in her highly choreographed images, are simply gorgeous. Juxtaposition of hard background metallic surfaces of a freight elevator against a partially clothed workman without a shirt, wearing jeans, nicely balances a young man's lean muscular strength with his human vulnerability in Marlene's Steele's powerful oil painting, "Freight Elevator".
The entire body of work exhibited in this outstanding exhibit is eye candy for the viewer. As a person whose medical career entails intimate connection with human spirit and routine exposure to the nude figure, I believe the commonality of humanness featured in this exquisite tribute to the nude, brings out the best sentiment of viewers. The collection celebrates the remarkable ability of a human being's mind's eye to capture the most intricate of subject material– each in his or her own unique vision–, the genuine innate beauty of every human form,  and the intense living energy existing in it.
–Laura Sams