Kim Krause's paintings are teasingly near to representational, until you realize they are all about the interaction of shapes and colors to the exclusion of other considerations. These colors are seldom nuanced; they are flat and precise but infinitely varied. The shapes themselves are nearly figurative, with hints of being more so. What goes on in Krause's work is a continuing, joyous discovery of relationships to the surprise and pleasure of both artist and viewer.
We talked in the Cincinnati native's Corryville studio, the first floor space sky-lit and its bright white walls interrupted by large windows so that the light itself was diffused and pleasantly enveloping. There are two rooms on that level, the first clearly the artist's work space with paints, canvases, brushes, tools of the trade all at hand.  In the second room several paintings are on the walls in what is very likely a frequently changing display and a curious little conversational grouping of furniture – a rose-red sofa and several chairs that seem to have no relation to one another – is arranged at the center as a mini-sitting room. The floor itself, dark wood, is wholly uncluttered by rugs. Fans set in the high ceilings substitute for air conditioning. Krause bought the building twenty five years ago, he says, and both the artist and his art seem perfectly at home there.
A moderately tall, slender man, he was wearing a black polo shirt, jeans and sneakers when we talked, all of which can pass as artists' working clothes. His hair is brownish and his eye glasses have bright blue rims that catch the light. Carolyn, Krause's wife, had been an art history major and was working at the Contemporary Arts Center as director of communications when they met in the 1980's.  The couple has two sons, one of whom, Kelly, lives in Cincinnati, and  Alex, a photographer, is based in Santa Fe.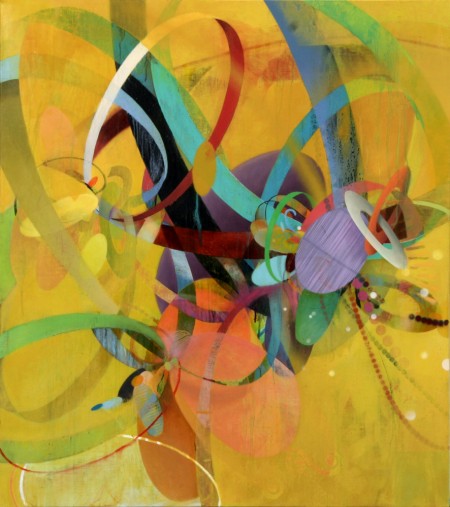 Krause is an artist hardly new to the game, although he's not one of those who were aware from the age of five that their calling would be the making of art. Both his parents enjoyed music and art so the household reflected those interests, but he says he didn't take art in high school because "weird people took art."
So, instead of an early visual art commitment, he went to architecture school, was exempted from the army three times, and by his early 20's was at the Fourth Street upper-strata women's clothing store, Gidding-Jenny, as a clerk grooming to become merchandise manager.  What with one thing and another, however, Krause says he got sidetracked into the Art Academy of Cincinnati where "it took me three years to catch up."  He was looking for skills that can be taught and also searching for the artist's outlook.  "You have to believe, to really want to express.  You don't do it to impress people."
The Academy was not only his learning place – he graduated in 1977 – it became his teaching place as well. He is now dean of faculty as well as teacher there but says he likes teaching more than administration.  "It's a real challenge.  Nobody teaches you how to teach.  I adore teaching," he says, adding as an afterthought: "The Academy is a place for renegades." He's also studied at Birkbeck College, University of London, England and earned a Master's degree in Fine Art from the Milton Avery Graduate School of the Arts at Bard College New York.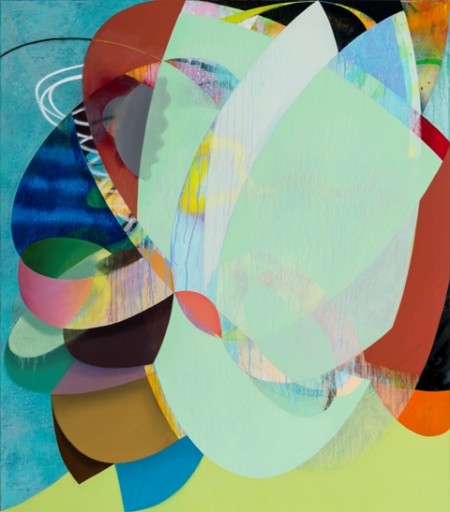 Krause's long association with the Art Academy led to his being co-founder of the Over-the-Rhine Chamber of Commerce, following the school's move to Over-the-Rhine, and Chairman of the Over-the-Rhine Design Studies Project. He also took an active role in having Over-the-Rhine declared a National Historic Neighborhood. The district is now so much a part of the city's varied image that these efforts have an effect beyond the art world.
An important element of Krause's continued professional learning is that he's been a frequent Artist in Residence in this country (Florida, Utah, New York, Santa Fe) and abroad (Germany, France). Residencies are highly competitive, he says, and he applies at places he'd "like to visit." He finds an intense bonding between the students, whom he considers "fascinating people" and they often keep in touch afterward.  "It's like going off to college," he says. These periods have left him more ready to take risks, less commercial, he feels.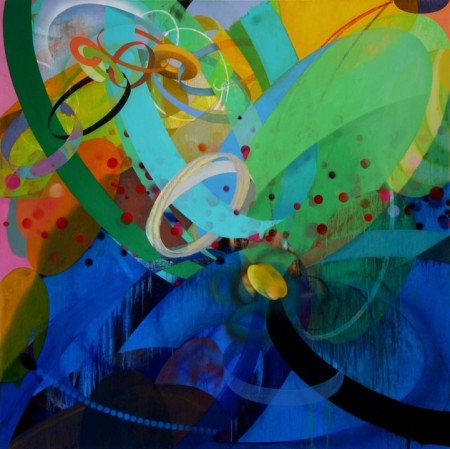 A visit to Krause's web site gives a good sense of his work, although on the screen can never equal the experience of actually seeing a painting.  Surface irregularities are lost, color may not be true, the size must be imagined rather than observed. However, a visit to http://kimkrauseartist.com allows the considerable pleasure of looking through five series of works, from 2007, 2009, 2010, 2012 and 2015. Each series explores a theme on canvases of designated shape and size, always rectangular with the greatest length vertical. "Pandora," the 2009 series, is the smallest at 30 x 24 inches while "Chronos/Tropos" from 2007 is the largest at 72 x 60 inches. The earliest are oil on canvas; later works include spray paint as well.
Like many of us, Krause did not immediately see his calling in life but he finds himself comfortable with the way it's worked out. He says he tells his students to remember "artists are intended to grow." And thinking back to his earlier ambitions he adds "Architecture is so collaborative, while art – it's just you for better or worse." Exactly.