Spearheaded by Kristine Schomaker, founder of Shoebox PR and Art and Cake, Shoebox Projects is a month-long residency program for Los Angeles-based artists. Not only does Shoebox Projects give visiting artists a space to work, but it offers the support of a thriving arts community, located at the Brewery Arts Complex, one of the world's largest artist colonies where more than 600 practicing artists reside.
Shoebox Projects' latest resident was Tony Pinto who was given the opportunity to jumpstart his practice after a fifteen-year hiatus, during which he spent most of his time balancing work with raising two children. "I wanted to make art," he explains, "but I had to work. I got married. I had kids. Occasionally, I'd pull out my sketchbook and draw, but that was about it."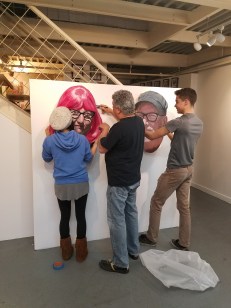 In the 1980s, Pinto had been a part of Boston's underground art and music scene which cultivated a pulsating energy that invigorated Pinto to create. "It was a special time," Pinto recalls. "We were all in it together, making new stuff; we held each other up and gained the confidence to take all sorts of risks."
A couple of years after he'd earned his bachelor's degree, Pinto's Boston-based band broke up. And then when his lease ran out, he knew it was time for a change. "It felt like the end of an era," Pinto says. With no ties to bind him to the city, he decided to head west, landing in Los Angeles where he enrolled in graduate school.
While working on his master's, Pinto unearthed what has since been an ongoing fascination with classical antiquities, namely the bust and its capacity to convey the individual's true essence of being, a theme he revisited during his residency at Shoebox Projects.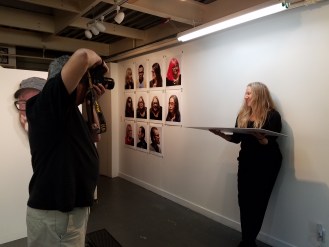 A few years ago, Pinto found himself wanting to connect once again with a group of creatives; he wanted to be a part of a group with whom he could interact, explore new ideas, and enjoy the same level of camaraderie that he'd experienced in his 20s. Despite his busy schedule, he starting attending gallery openings with increasing frequency and cultivating friendships with individuals he now considers "my people, my tribe, my community–artists, gallerists, curators, critics and writers."
It goes without saying that a sense of community is important to Pinto's process. This was his reality during his youth and it is what has reinvigorated his drive to create today as is evident in "Artist Seen," the result of his residency: a solo show at Shoebox Projects.
While Pinto's work can be classified as portraiture, he doesn't limit himself to just one medium. Among the works in "Artist Seen," seven oil paintings on plywood feature the faces of Pinto's "tribe" and include Alex Couwenberg, David Michael Lee, Andi Campognone, Jennifer Gunlock, Jane Magdelena Bauman, Kristine Schomaker, and Bradford J. Salamon. Like large puzzle pieces cut from a jigsaw, each painting stands between one and two feet in height. By obscuring all but his subjects' heads from the canvas, Pinto lends these works a sculptural feel reminiscent of the bust while his gestural brushstrokes are what give each a prevailing sense of dimension, radiating with dynamism.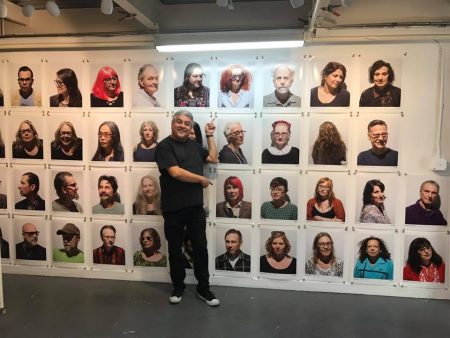 "Artist Seen" also comprises a large series of photographic portraits that again feature Pinto's acquaintances who contribute to the Los Angeles art scene. Most every picture captures a playful albeit intriguing sense of whimsy, reflective of each subject's true character. Lined side by side and stacked in rows, they appear collectively like an enormous page ripped from a high school year book. In his words, "This work is my way of documenting the relationships I have with these people, my connection to this specific world, and claiming my membership within it."
Taking on this residency proved life changing for Pinto. He admits, "I couldn't have done all this work on my own." The opportunity was just what he needed to push himself in ways he hadn't experienced for years. As iterated by Schomaker herself, "I know how hard it can be to create new work…. Shoebox Projects gives residents a change of place, a change of energy and, we hope, a new spirit," which is exactly what Pinto acquired from his time spent there.
Tony Pinto is an award-winning art director, designer, and educator. As an adjunct professor of art, he's taught courses in in painting, art appreciation, digital foundations and design at Coastline Community College, California State University, Fullerton, and Irvine Valley College. Pinto received his BFA from the University of Massachusetts, Boston, and his MFA from California State University, Los Angeles. "Artist Seen" opened on April 29th and remained on view throughout the 2017 Brewery Art Walk
For additional information and news about upcoming residencies at Shoebox Projects, please visit their website at www.shoeboxprojects.com
–Anise Stevens