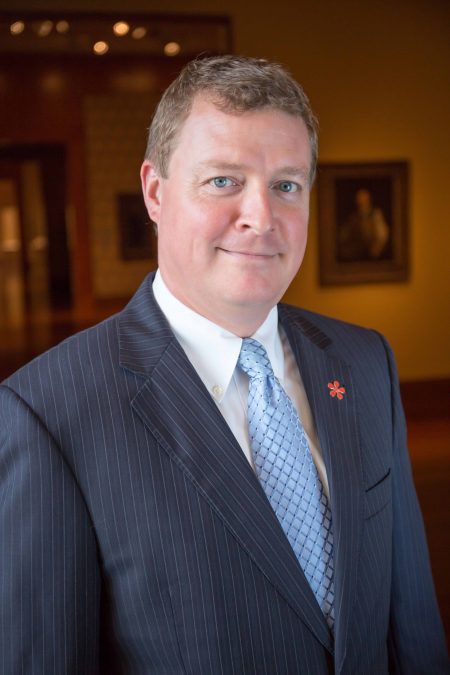 "It's complicated," said David Linnenberg, chief administrative officer, Cincinnati Art Museum, of the physical plant and other departments which he manages.  Temperature has to be 70 degrees plus or minus and humidity has to be maintained at 45 degrees plus or minus 5 in order to keep artwork in compliance with industry standards.  Those sponsoring a traveling exhibition, for example, may ask to see its data.
"Cincinnati's weather is a headache.  That's jarring to the system.  One day it's 70 degrees; one day it's 50 degrees.  Older equipment take more work," said Linnenberg.  He has to keep conservation, loans and other departments happy with the temperature in the museum.
The plant consists of seven different buildings; the first built in 1886.  The buildings are not level so visitors pass through with varying degrees of flooring.
Some of Linnenberg's key responsibilities include working with HVAC systems, dealing with 23 separate air handlers, 3 boilers, 2 chillers and a cooling tower.  Maintenance of those is paramount.  Some of the equipment is from the 1960's.  "Even changing filters is a lengthy process," said Linnenberg.  A team of three people handle buildings and grounds.
The Art Academy of Cincinnati opened in 1887 in Eden Park as part of CAM.  Construction for conversion started in 2011 and was completed in 2014.  "We went the extra effort to save the walls," said Linnenberg.  There are offices for staff and the Mary R. Schiff Library and archives.  Space was freed up to accommodate employees' work stations.
"A lot of water is on our roof; sometimes hail hits it sideways.  Our gutters can only take so much.  Most of them have fixed capacity," Linnenberg said.
"We made great progress to protect the art," Linnenberg said.  "We don't have compartmentalization in the building.  The chillers caused problems, so they were rebuilt."
The budget is $1 million in operations, including  a plant fund and unrestrictive gifts.  Two capital gifts came from the State of Ohio in 2006 and in 2018.  They were used to improve HVAC and the building.
Cleanliness of the building improved with COVID-19.  The museum made changes to accommodate the new rules.
"There are no plans to expand our existing walls," said Linnenberg.  But, there is room for expansion of access and opening the museum grounds.
Construction has begun for rebuilding the front parking lot and arrival court in front of the museum plaza.  A new accessible path from the parking lot to the first large landing on the Art Climb will also be added.  In addition, a new basin will be added underneath the parking lot to support water runoff, according to CAM.  The project should be completed in mid-November.
Linnenberg also oversees the marketing, development, building and grounds, membership, visitor services, learning and interpretation, security, exhibition design and installation, registration and government relations departments.
Dave Gearding, facility director of the Contemporary Arts Center, has been with the center since 2002 as a senior member of the staff.  He is on call 24/7.
Under his purview, The Contemporary Arts Center, designed by architect Zaha Hadid, opened in 2003 and staff moved over to the new building. There are 86,500 square feet , including five floors of gallery space with offices on the third floor.
The CAC has a state of the art automation system which controls temperature in spaces remotely and makes any adjustments necessary.
Gearding contracts out several processes because of the size of the building,  Peck Hannaford & Briggs handles preventive maintenance for the physical plant.  Schneider Electric is contracted for building automation, such as the air handling equipment.  Fuji Tech is the contractor for elevators. Security and fire alarm are contracted from SimplexGrinnell.  Dynergy is used to buy electric renewable energy in wind form from Texas.  Gas is provided by Constellation Energy. These contracts are three to five years out.
Gearding works to maintain the building's sustainability, and must be efficient with funds.  "Money is always a challenge," said Gearding in nonprofits, but there always seems to be a way of finding sources for projects around the building. "We're always exploring grants and advancement monies to offset costs," he said.
The budget for the facility is $425,000 which includes contracts and utility costs.  It has been developed to include life expectancy of the building infrastructure.  For instance, the outside has blackened aluminum panels that require maintenance.
He serves as the liaison for the facility committee.  Board members, architects, contractors, designers and patron/philanthropist Richard Rosenthal sit on the committee which meets quarterly to review the operations, plant and maintenance issues.  For example, roofs will be evaluated at a cost to be replaced next year.
COVID-19 occupied Gearding's attention.  CAC always had hand sanitizing stations.  During COVID-19, they were increased.  Seven members of the COVID-19 task force addressed everyone's concerns.  CAC reopened to members on June 24 and to the general public on July 1.
He said he is a hands-on manager who cleaned the Metrobot, a 27-foot-tall robot-shaped 3-D multi-sign upgraded in 2014 by Tom Strohmaier, one of the original artists.
Communication is a big part of the process.  He often meets with departments concerned to make the visitor experience as smooth as possible.  "School groups come in so there are instructions to clear out the elevator" Gearding said.
"Artwork takes priority over creature comfort at times," Gearding said.
–Laura Hobson