Minnesota-based multi-media artist Chris Larson's work "Function is Redundant" is displayed at Cincinnati's Contemporary Art Center and runs until September 2, 2018. In this large display of single and multi-channel video art installations, sculptures, paintings, and intermedia, Larson's work incorporates large-scale ethereal photography, drawings and sound to supplement his documented process of structural abrogation. As The 2018 John Simon Guggenheim Fellow has stated, his work focuses on building and reproducing particular spaces and objects of architectural insight (Guggenheim Memorial Foundation). These spaces are rendered uncanny, through a process of affected disfiguration and transformation via relocation, replication, and distortion. Consequently, Larson utilizes a method of coordinating art and science in relation to the creation of physical forms and their cohabitants, driving haptic environments towards a networked sociology (Minai).
By treating gargantuan physical buildings and structures to applicatory modes, such as in Heavy Rotation (2011) and The Raft (2004), Larson employs hypnotic constructs that lack function and feasibility. Heavy Rotation shows multiple streams of his practice, where the artist's mental architecture mirrors the incubator of a studio: Larson participates in labor-discourse, simultaneously deconstructing his "home base studio," where the artist is situated inside. In Heavy Rotation, a spinning vinyl is displaced into convergence between a wall and floor space, occupying liminal landscapes and swift trance-inducing motion(s). Hence, in Heavy Rotation, which occupies itself with labor-relations, Larson identifies mathematical objects and operations in his work,  a nod towards predecessors whose work dealt with materiality such as Dutch artist M. C. Escher. Escher's woodcuts, lithography, and mezzotints heralded research into tessellation, much as Larson's psychologically-charged body of work seeks the neat arrangement of shapes, cultures, and patterns. Larson peeps into an ensuing void in the piece, as he recasts ordinary artist studios through surrogate self-portraiture. The back of the subject's head replaces Larson's anticipated reflection in the consequent mirror. Larson lowers a ladder through an excision, through which he travels down and builds a frame and cuts the same hole that mimics his studio-space. A third passage in the video amplifies a feedback-loop, where Larson displays the entirety of the studio's contents slipping from one side to another.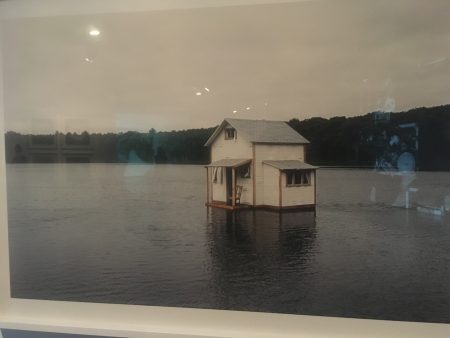 Artist and art historian Professor Wayne Roosa, has lectured on Larson's work, exploring the provocative world of contemporary performance and video art as a "Sacred Discontent," a discrepancy that culls human aspiration before human shortcoming regarding the human condition. Hence, Larson's work is reminiscent of seminal nature and ambient video artist Bill Viola's videos, such as "The Passing," in which a nude presumably woman walks towards an austere netherworld through a flowing membrane of light. Viola's videos often draw on religious iconography and ethereal subjectivity, though Larson aims his portraiture and myriad of video augmentations towards his own gaze and that of labor-psychology.
Roosa notes that "interiors and exteriors are conflated as we shift between physical realities and psychological constructs," and Larson's arresting displays traverse these odd, mechanical and fluid motifs. Heavy Rotation features Larson's primal, animalistic actions that dissect and frame the contingent sites.  By employing a turntable apparatus to both design and destroy the interior/exterior space, Larson opens up striking new psychological dimensions of the artist studio as a sphere of production. "Function is Redundant" features some of Larson's most memorable video art pieces, which skew commonly held understandings of the built world. The pieces are accompanied by installed paintings, prints, and sculptures that are produced in a finely orchestrated fashion.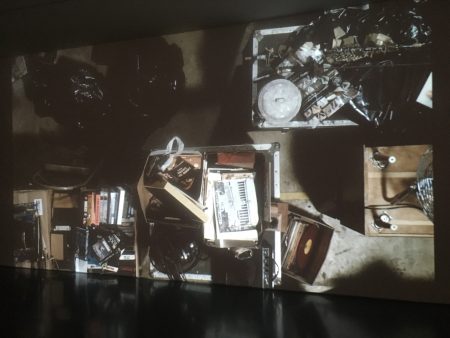 Larson's oeuvre has a different tendency towards theatrics, as exemplified by Crush Collision (2007). Produced by Jason Spafford and featuring sound design by Alex Oana, Larson's twelve-minute film features a complex examination of the dualities of human existence. The audio accompaniment is that of Grant Hart (formerly of the bands Hüsker Dü and Nova Mob) and performance artist Britta Hallin, featuring local percussionist Michael Bland (formerly with Prince and The New Power Generation and Soul Asylum), and Minneapolis gospel quartet, the Knight Family (Minneapolis Institute of Art). Crush Collision traces two story lines from different times running parallel in the same location. The first story follows Hart and Hallin as they toil on an elaborate, archaic-looking machine that endlessly creates a circle of clay. The other finds Hart on the house's upper level while the Knight family says grace and sings below him. The film is a meditative study of dark and light – that which is physical and spiritual. The droning ambient strings of percussionist Michael Bland and a backdrop of gospel, follow the camera's operations, which navigate multiple arenas to celebrate illuminating discordance, investigating integration of people and situations. Within a two-story home brimming with interwoven plots, the performers toil with the process of creating a machine that beats circular clay loops ad infinitum.
A metaphorical rendering of capital and endless labor, Crush Collision's production-show endlessly resolves that labor that leaves no resolved scene, as one of the performers rocks against a silver piano while a family sings an impassioned spiritual hymn of salvation and heavenly release. Larson does not offer conclusion of any sort in his works, which function as loops – vignettes and passages that dictate the internal process of the artist, mirrored with the external process of capitalism's commodity-fetishization. A series of Crush Collision Drawings (2006) use various mathematical and structural imperatives to bisect circles with ladders and austere paneling, ambiguous yet curiously operational. These drawings schematically fit the operatic filmic display.
Larson's work also pays homage to the human body's history in performance art, where the presence of the body in awareness and experience is part of a performer's self-transformation. Temporary and partial, the author/performer performs actions that involve their own body while delineating the physicality of the operational body as an artistic material, inviting meta-commentary and testing the body in terms of its limits. Bob Flanagan and Marina Abramovic's work display two dialectic ends of this tendency.
For Larson, the insurmountable limits of the body, which are not beyond reasonable manipulation, shine light on both the limits of connection and mechanization of appearance, shape, gender, form, or labor (Hofmann and Zorić 58). In the single channel video Reservoir Drawing (2015) Larson underscores his manifesto of deconstruction via uncanny fruitful through ruination – nurturing and undoing replica studio spaces. As a sister-work to Heavy Rotation, Reservoir Drawing shows Larson flood a recreation of the studio space, where the structure rotates with scattered floating pencils. Reservoir Drawing culls a liquid arena that yields the performance of place as an "end itself" as the artist's creative bedrock becomes self-subsuming.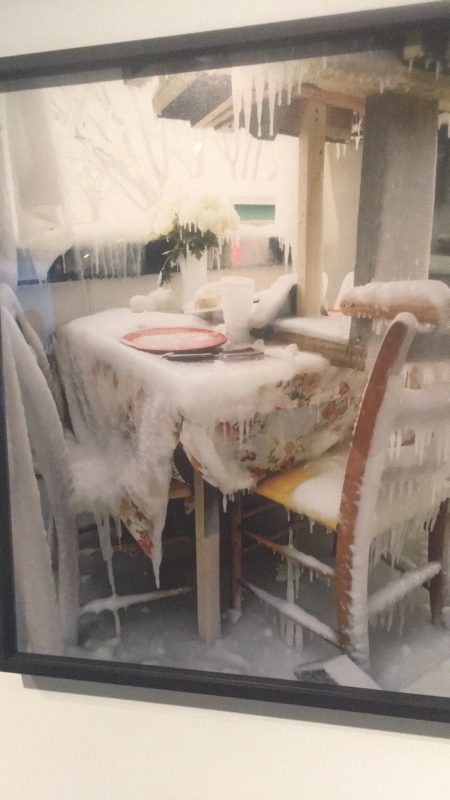 Larson is a self-declared "sculptor," and despite his videos document sculptural production while functioning as large-scale monumental theatrical sculptures. Larson aptly traverses liminal aesthetic media in his work. Larson, in an "Untitled" installation at St. Olaf in 2010, combined such familiar elements from his previous installations and videos, including hallmark wood architectural frameworks and live video feeds. The artist donned a gray wool felt suit, a beginning point regarding Larson's discourse on nature, human activity, creation, construction, and destruction. Larson's work neither eschews linear production nor mindless mechanization in order to fracture utility, preserving himself from ostentatious critique. Larson is much more meditative and tactful in his process.
Crush Collision is an ultimately powerful and arresting display, the CAC show's centerpiece. Larson's inspiration for the exhibition draws from ragtime composer Scott Joplin's song "The Great Crush Collision," which Joplin wrote after attending a historic media event on September 15, 1896 – a collision took place between two locomotives in the town of Crush, Texas. The crash-collision, staged in the public arena, represented the clash of the cultures of the North and the South. Crush Collision shows Larson's conceptual "collisions," which present conversations that facilitate different and similar worlds wherein people, ideals, politics, and art collide, unfold, and deconstruct (Perlman).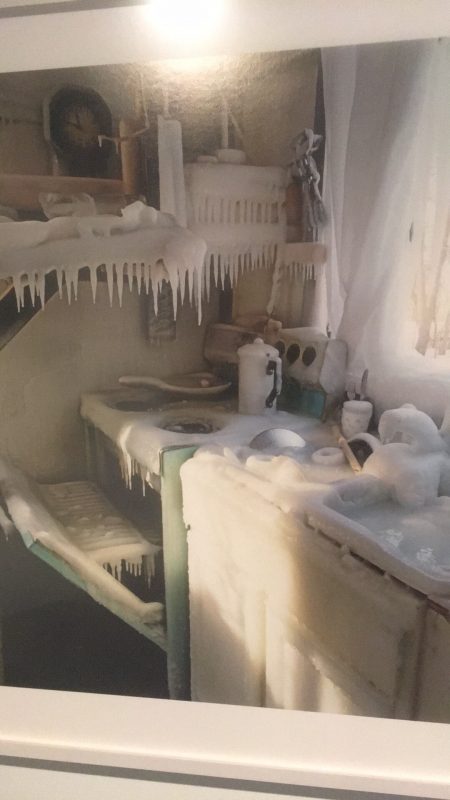 The photograph Crush Collision (2006) displays a wooden house that lies on its side. The house is isolated and autonomous – a flat black – as the toppled construction that subsists functions as an aftermath of the collision rather than the video-display's literal collision. While Larson's twelve-minute film traces two story lines from different time periods that run on parallel tracks, the isolated photograph is a dim reminder of consequential production, spanning nature, technology, and production.
Larson's 26-minute video Land Speed Record (2016) surveys chalky, ashen remnants of "inert, tedious, and dead" structures. In the video, Larson applies sensational violence upon the structures by burning, shooting, drenching, and brutalizing the models he creates. Land Speed record also surveys the famed punk music drummer Grant Hart's childhood home, with the signature auditory accompaniment of Minnesotan industrial American Rock band Hüsker Dü providing for crass aural accompaniment. Larson's collective objects are displayed as the camera pans over antiques, auto parts, instruments, and portraits of Hart. Larson creates smoky aftermath effects in material damage by cultivating corresponding shifts in psychological architecture to prompt new modes of viewership. Larson achieves this via bird's eye camera angles and by focusing on processes of destruction and fettering while drawing upon timely chaos.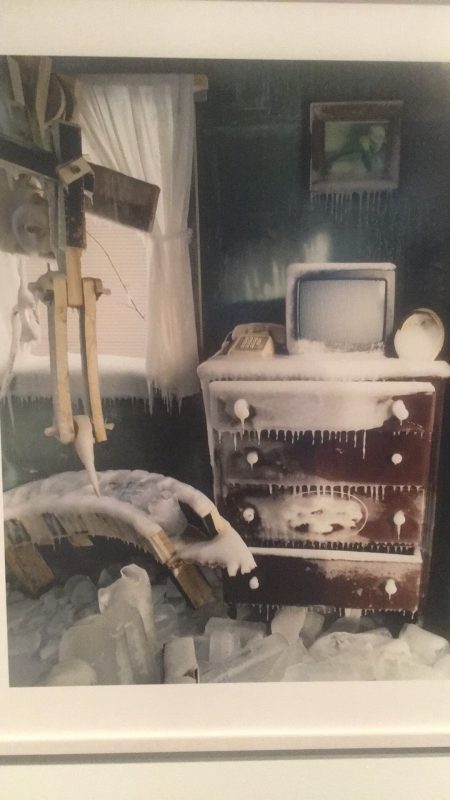 Larson's mechanical productions are not limited to video displays, drawings, and photographs, as he is – first and foremost – a sculptor. One of the most powerful – though subtle – pieces is Crush Collision Ring (2006). A porcelain circle is driven into the wall, creating a serpentine loop that symbolically culls the environmentalist undertone of labor and production's grand finale. Larson's most recent work, Threshold Drawing (2017), features a series of paintings that divide four quadrants over dense overlapping lines into a bleeding, seeping foreground. Paired with the black gesso paintings series, Larson's ominous video works ruminate on the inexplicable but predictable mechanization of production, as well as the microcosm of quiet metamorphosis inherent in the minimal and mundane processes of labor.
–Ekin Erkan
Works Cited
"Chris Larson | Function Is Redundant." PRIZM Magazine, PRIZM, 2007, www.prizmnews.com/calendar/chris-larson-function-is-redundant-8/.
"Chris Larson." Guggenheim Memorial Foundation, John Simon Guggenheim Foundation, 2018, www.prizmnews.com/calendar/chris-larson-function-is-redundant-8/.
"CRUSH COLLISION: A NEW INSTALLATION BY CHRIS LARSON –– Mineapolis Institute of Art." Minneapolis Institute of Art, 27 Oct. 2006, new.artsmia.org/press/crush-collision-a-new-installation-by-chris-larson/.
Hofmann, Gert, and Zorić Snježana. Presence of the Body: Awareness in and beyond Experience. Brill Rodopi, 2017.
Minai, Asghar Talaye. "Art, Science and Architecture: Architecture as a Dynamic Process of Structuring Matter-Energy in the Spatio-Temporal World." Art and Architecture of Ireland Volume IV: Architecture 1600-2000 Art and Architecture of Ireland, vol. 70, 2014, pp. 1–450., doi:10.3318/978-1-908996-65-7.back.
"On the Strange and the Beautiful:" House of Mercy, www.houseofmercy.org/on-the-strange-and-the-beautiful/.
Riddle, Mason. "In the Here and Now." Star Tribune, Star Tribune, 14 Oct. 2010, www.startribune.com/in-the-here-and-now/104958559/.