"I believe truly great art serves as a trigger into something deeper within all of us"
Joseph Lorusso
Nostalgic romance is alive and well at Miller Gallery in Hyde Park in the contemporary figurative work of Joseph Lorusso. Born of Italian descent in Chicago in 1966, Lorusso has been exposed to art from an early age.  Several family trips to Italy introduced him to the works of classical Italian Masters. Having trained as a watercolorist, he is a self- taught oil painter. His painting techniques and subject matter choices stem from numerous lunch hours spent in the halls of the Chicago Art Institute, studying the master painters' approaches to color, texture and composition. It is also of note that Lorusso worked at Hallmark Cards, Inc. as an artist in the greeting card division. He has also served as instructor of painting and drawing at the Kansas City Art Institute and the Scottsdale Art School.
There are various overtones of human emotion detectable in his pieces that easily communicate romance or loneliness, mystery or familiarity in unvarnished terms in casual contemporary social settings.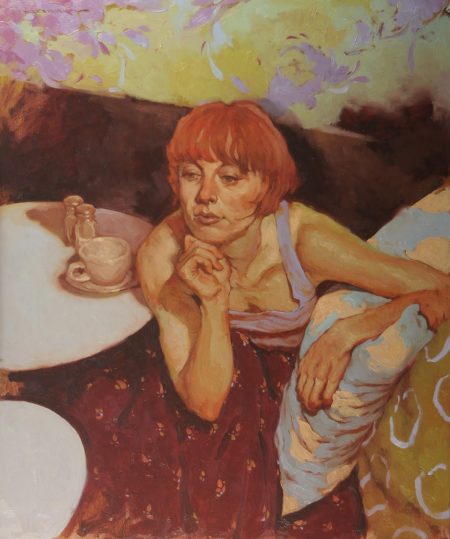 Consider the painting "A Far Off Look". A solitary woman ruminates alone in a public coffee house. Her scant rumpled bodice reveals the anatomy of her upper torso as she leans forward, chin in hand, in contemplation. The nearest round tabletop holds her coffee cup. Her roasted skin tones are those of summer and her short cropped red hair heightens the overall warm color palette of the painting. This image is casually reminiscent in theme of Edgar Degas' "Absinthe Drinker", who sits in a similar establishment at straight edged tables and stares through a personal mist, oblivious of personages nearby.
In the painting "Sneaking a Kiss", a young couple is seated closely together on a tufted floral cushioning in a discreet corner of a public establishment. The painting captures a deeply felt, spontaneous kiss while the couple is sharing a sip of red wine. Lorusso makes a direct use of the straight edge of the table from the lower right corner to the folded arms of the woman as she leans into her act of affection. The additional interior description is a spare golden railing with a geometric pattern, broken only by the heads of the entwined couple and the neck of the nearly empty bottle of wine. The limited color palette features dark red browns and rusts, accented with the warm golden creams of the table top and wall railing and the muted bottle greens.
Lorusso channels emotion in his choice of coloratura, conveying it with power and confidence in his brushwork. A sleepy female nude is posed in a cascade of colorfully patterned bed dressing. The invitation to share her secret intimacy is an opportunity to amplify the beauty of the human body at rest. The painter leaves some context to the imagination in this dream- filled image. The peaceful restfulness contrasts dramatically with the agitation of another work in the show entitled "Dinner Party".
"Dinner Party" is a larger multiple figure work in a square format, depicting a scene of debauchery and inebriation. Well -dressed socialites in tuxedos and a variety of elegant evening gowns are unmasked in a frieze frenzy of alcohol consumption. In the main action of the painting, two men are seen with their hands on a woman in a precarious position, her golden gown slipping low off her shoulders as a result of her action. Women are shown in the back of the space, quivering to the rhythms of pulsating music. Another woman gasps in shock, her open mouth covered by her elegant long black evening glove. In the foreground, a man attempts to revive a man passed out on a table replete with bottles of champagne and tall stemmed glasses while the room dissolves in abstracted nuanced space. The painter's indictment is clearly illustrated in a warm palette overall, the white dress shirts of the dark haired men rendered in creamy tones and accented with the deeper passages of their tuxedos.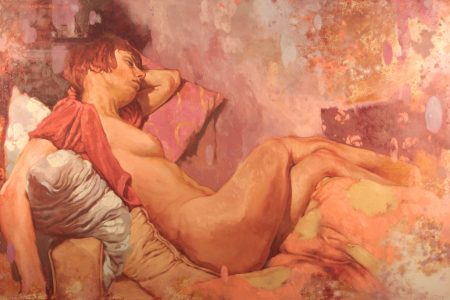 Lorusso's paintings can be described as warm and emotional in mood, sometimes even dreamlike in motif. His compositions invite us to intrude voyeuristically into the personal moments of others, capturing the stolen kiss and personal moments of revelry. In current times, Lorusso's nostalgic dream world seems dated and oddly out of step with the current covid-19 reality of masking, social distancing and controversial bar and restaurant closings.
While this writer enjoys expressive figure and portrait work, these images are stylistically dated and staid statements.
–Marlene Steele