In early June 2021 a Cincinnati treasure, the 200-year-old Taft house, closed for a year of renovations. Approximately 80 of the collection's seminal works can be enjoyed in the Fifth Third Gallery. The exhibition is titled "In a New Light" and covers a broad range of cultures, eras, and artifacts that were collected by Charles Phelps Taft and Anna Sinton Taft during their travels abroad.
In 1927, the Taft family bequeathed their home and collection to the people of Cincinnati. This wealthy and politically connected family believed, like Isabella Steward Gardner and Henry Clay Frick, that the quality of their collection could educate and inspire their community. The Taft family also established an endowment, known today as "ArtsWave", missioned to support art programing and non-profit organizations.
The family of the Taft residence is represented in classically proportioned oil paintings: Anna Sinton Taft and Charles Phelps Taft, half-brother to President William Howard Taft, as well as marble busts by Hiram Powers of Alphonso Taft and David Sinton, whose iron smelter furnaces boosted his wealth during the Civil War and who invested his profits in real estate.
The high political connections of the family are exemplified by the White House portrait of William Howard Taft by Joaquin Sorolla, whose reputation and clientele was recognized internationally. Executed in1909 at the beginning of his presidency, this life-sized portrait reflects the cordial personality of the corpulent 27th president who was also later to serve as the tenth Chief Justice of the United States, being the only person to have served in both offices.
The rise of the new merchant class in Europe is celebrated in two stunning portraits: "Man Rising from his Chair" by Rembrandt van Rijn, and "Michael de Wael", son of a wealthy Dutch brewer, painted by Frans Hals circa 1625. In this famous portrait, Rembrandt captures the engaging energy of the youthful entrepreneur as he extends his amazingly lifelike hand in gracious welcome. His elaborate lace mantle alone is a painted wonder, draped over a split sleeve that leads to the single laced cuff of the hand gripping the chair.
A portrait by Jean-Auguste-Dominique Ingres entitled "Jeanne Gonin"
was once owned by Edgar Degas. This oil painting shows a delicate young society woman, thirty-four years of age, who is about to be married. A beautifully rendered lace trimmed collar and dark curls frame her tender gaze.
"Song of the Talking Wire" by American artist Henry Farny depicts a mature Indian hunter, clothed in a painted buffalo skin as he leans onto a telegraph pole on a snow driven plain. A buffalo skull and the lowering sunset signal the twilight of the Native American's way of life.
Farm life with cattle is the theme found in the "Wooded Landscape" by Thomas Gainsborough. The viewer hovers above observing two rustic lovers, a milkmaid and a shepherd minding his animals in a densely forested hollow. In contrast to this unlikely scenario, the atmospheric space depicted by French Barbizon painter, Constant Troyon's in his "Cattle at a Watering Place" is a vivid believable visual experience. In a vast open terrain beneath rolling clouds in the vault of heaven, several dark cows and a brilliantly rendered white cow linger in a meandering stream. The viewer is at eye level in the stream with the sun-spotted watering cattle, their gestures rendered so realistically by this celebrated animal painter.
Another magnificent work is W.M. Turner's "Europa and the Bull". In this large canvas made even larger by the scope of his vision, Turner conjures the mythical abduction on the beach of a jagged coastal region. Adrift in the waters far from shore, Europa and the bull are enveloped in a mystical enshrouding fog that only Turner can conjure while a trio of frantic companions signal their fears on the shore.
Several Qing Dynasty porcelains dazzle the eye with brilliant botanical abstracts as well as embodiments of cultural history. I particularly enjoyed a towering vase depicting the epic narrative of the disintegration of China's Han Dynasty. Fierce warriors of the three opposing factions conduct airborne aggressions on colorful chargers. A powerful writhing dragon fiercely protects the mouth of the jar.
Many additional artifacts and nicknacks are wonderful rarities to behold: the House of Faberge Notebook, jewelry, and watches including a silver skull "memento mori" where time is read in the open mandible.
Spend a moment in the audience of author Robert Louis Stevenson, an intimate painting of his friend by John Singer Sargent. In a contemporary interior, Stevenson lounges in a marvelously painted wicker chair, his lanky legs casually assembled, the right hand strategically poised for the next draw. This is the third of Sargent's portraits of Stevenson, painted in the subject's home in Bournemouth, England. A family friend observed: "It is living to the tip of the cigarette."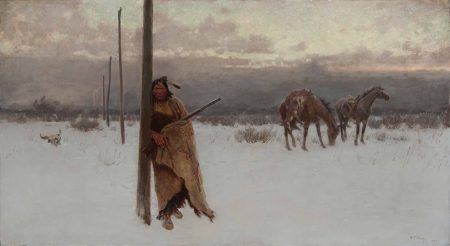 The Taft Museum collection houses European and American paintings, limoges, multicultural artifacts, and original furniture. Featured July 3, 2021 through May 1, 2022.
–Marlene Steele