In 1970, I started my first year in the MFA program at the University of Cincinnati. The MFA studios were at that time in old houses behind St George Church on Scioto and Classen Streets. While moving into my studio, I noticed a man in gray coveralls working on his 1950 Chevy pickup. I first thought, "Could this be the neighborhood junk man?" But, no. It was Stuart Fink. He and his wife had driven from San Francisco in their pickup. He was completing his BFA while his wife was in her second year of her MFA.
I began to see Stuart more and more around the studios when he was admitted to the MFA class that was to follow mine. Our friendship grew over the next two years.  As I got to know him, I found out many interesting things about him. One of those was that Stuart had had a leather clothing business in San Francisco and had sewn leather garments for Santana, Janis Joplin, and other rock notoriety.
Stuart and his wife moved to Baton Rouge in 1973 where his wife was offered a teaching job at LSU. In 1975 he was back in Cincinnati, alone, living on the same street as we were. It was then that he actually became part of our extended family and with that came many memorable moments. We were there when Stuart decided to fight for his sobriety.
My wife Stephanie enjoys cooking and sharing food with family and friends. Stuart had many family dinners with us, as did the other members of the extended family especially during the holidays. There were also alternating Sunday dinners with friends. This continued until the last few years when he became too weak to attend.
During the dinners and holiday gatherings, there were many moments where the conversation would just take off into silliness over some minuscule thing fed on by an onslaught craziness, and Stuart just taking it all in, laughing and commenting "It almost takes nothing! Hahahaha!" On one occasion, the conversation focused on an observation of toes. After a while, Stuart yelled out, "Somebody give me a pencil and paper!" He then produced a line drawing of a bulbous toe with this tiny sliver of a nail. This drawing hung on our fridge for years, a cherished and ever-present reminder of that hilarious conversation. My son was so enamored by this drawing event that Stuart produced cast bronze bookends of the infamous toe.
Stuart worked in the Holmes Hospital kitchen as the dishwasher on the weekends and devoted the rest of his time to his artwork. He rented a studio in the Big Four Building on Third Street in 1976, and I soon followed, leaving my space on Peebles Corner a year later.
During this time, Stuart's choice of materials changed from painting to creating wooden cutouts to creating cutouts of aluminum plate. I can remember the day it took eight of us to walk the four foot by twelve foot sheets of aluminum up to Stuart's studio on the fifth floor. We both worked in that building for about nine years. The individual spaces were big enough that we could show our work one weekend a year during an open studio. As time passed, we both managed to secure other studio spaces in the mid-eighties. Stuart purchased an abandoned trucking depot in the East End, which he transformed into living/work spaces with an incredible sculpture garden and ornamental grass nursery. Both our sons worked there helping make and pour concrete sculpture for public commissions such as the one in Lima, Ohio. Other public works in Cincinnati included the cutout aluminum figure on Brodie Plaza at the University of Cincinnati and the granite Kadetz Fountain at Piatt Park.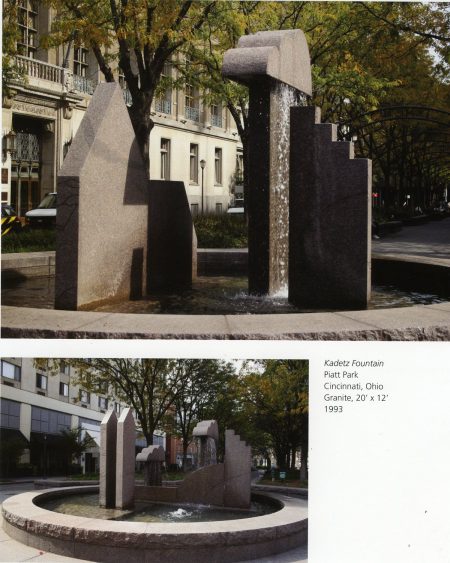 I witnessed Stuart's work not only changing materially but also in the collecting and building of his vocabulary of forms, shapes and images through constant observations of what was taking place around him. There are references to figures and their interactions, references to shapes derived from architecture, landscape and abstract shapes that seemed distilled form all of it. His figurative paintings would often be composed of slightly disjointed shapes. The figure could be alone with its thoughts or a couple in conversation with glyphs emanating from them. The Glyphs have images rather than text and sometimes the glyphs had glyphs that were filled with images.
The paintings gave way to cutout plywood and aluminum figures that could stand before us. Now, instead of the voids and glyphs being filled in with painted images in the paintings, the 3D cutouts would have the voids and glyphs, that were completed (filled in) by the surrounding spaces as one moved around the pieces. I remember helping truck the big painted plywood figures down to the Serpentine Wall and assembling them for a photo shoot.
In the 90's, Stuart had a chance to sell his property and took it. Managing the nursery, gardens and sculpture garden was getting more difficult. And so he bought a house in Northside that became his home/studio and started producing some smaller more refined wooden pieces.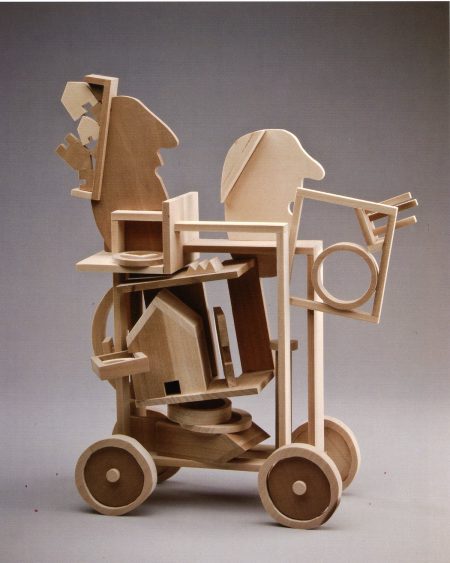 This also marked a time when Stuart started having pieces fabricated from metals. His drawings were scanned into a CNC program and the work was cut with a water jet from solid steel stock. Along the way his vocabulary of shapes and forms became more specific, a paring down. Yet through this paring down, it seemed to pose more possibilities.  The pieces seemed more specific in terms of the drawn line being retained in form and mass of the steel piece even through the process of line drawing through the CNC programming to the actually cutting of the steel. Since his dinning room was his gallery and it housed the steel pieces, the basement had to have molly poles erected to shore up the load.
Stuart Fink and his work is a significant treasure for Cincinnati. It has been an honor to attempt to write about Stuart. Stuart passed on 12/1/2021.
This writing doesn't begin to address the fifty years of his life and work, as I know it. For as long as we knew him, Stuart attempted to draw every day he could right to the end. Your extended family will all miss you, the people of Cincinnati will miss you and we all will miss the promise of your future work. (However I won't miss driving to the Columbus Airport to pour concrete in January or standing atop one of the columns of the piece in Lima as a concrete arch is craned in so I can set it on its pins as I step off the piece on the nearby scaffolding.
Draw in peace old friend.
–Frank Herrmann